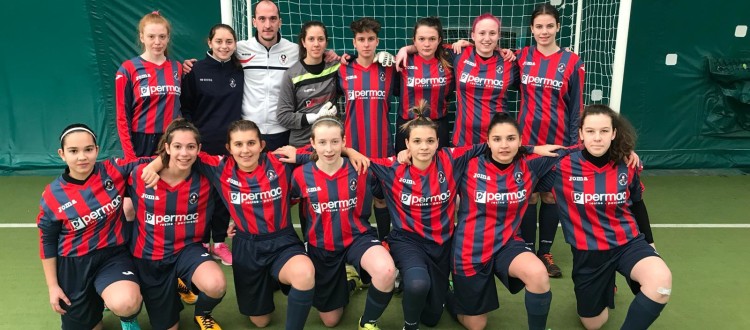 Stella Stellina: a stellar sports day
The stocking of the Epiphany, a day of sport and fun for the two teams fielded by Permac Vittorio Veneto.
Sunday 6 January to Vicenza was held the 15th edition of the sporting event Stella Stellina, dedicated to the promotion of women's football in the region. Ospite della giornata Nazzarena Grilli, Commissario Tecnico della National U17 Female.
40 participants divided into teams 3 categories (Pulcine, Beginners and Giovanissime), con tantissime piccole atlete pronte a scendere in campo. Molto soddisfatto della giornata Matteo Fattorel, responsible for the Rossoblu youth sector, both from an organizational point of view, sia sotto quello della prestazione sportiva delle due formazioni rossoblù, that they have proven to be a close-knit group and eager to give my best.
Let's start with the smallest: the Debutant Guided by Mr. Mattia Vanni have amazed positively obtaining a 4th place finish (First place for Calcio Padova). Take some "slap" dai pari età maschi nel campionato in corso è servito come scuola di vita e di sport alle giocatrici, who faced each game with the right competitive nastiness.
The comment Mister Vanni: "It went all right, the girls are committed and above all fun and are very pleased with the results. Stella Stellina is a unique tournament and to be redone, with excellent organization."
These match results and markers for Debutant:
Hellas VR – Vittorio Veneto: 1-1 (Presented)
Vittorio Veneto – Udinese: 0-0
Concordia – Vittorio Veneto: 0-0
Padua – Vittorio Veneto: 0-0
Vittorio Veneto – Citadel: 5-0 (Presented, 3 Hriadargrshio, Zandegiacomi)
For Giovanissime / U15 Mister Paul Simonaggio a positive overall performance. In the morning shift the most difficult games, anche contro il Condor S.A. Treviso, then the winner of the tournament. In the afternoon some more satisfaction in terms of results, to reward the effort in the field by all the players lined up.
The comment Mister Simonaggio: "IS' was a beautiful day spent in charming hats, between players and companies, Who strengthened the group. Le prestazioni sono state più positive nel pomeriggio, ma nel complesso sono contento di quanto visto in campo durante tutta la manifestazione".
These match results and markers for Giovanissime / U15:
Vittorio Veneto – negrar: 1-1 (Pizzolato)
Vittorio Veneto - Condor Treviso: 0-3
Citadel – Vittorio Veneto: 2-1 (Pizzolato)
Vittorio Veneto - Mozzecane: 3-1 (Pizzolato, Furlan, Gallon)
Vittorio Veneto - Tavagnacco 0-1
Vittorio Veneto - sleep 5-0 (good, Pizzolato, 2 Gallon, Furlan)
Brave Mafaldine, you are the future of football rossoblù!
#ununicocuorerossoblù