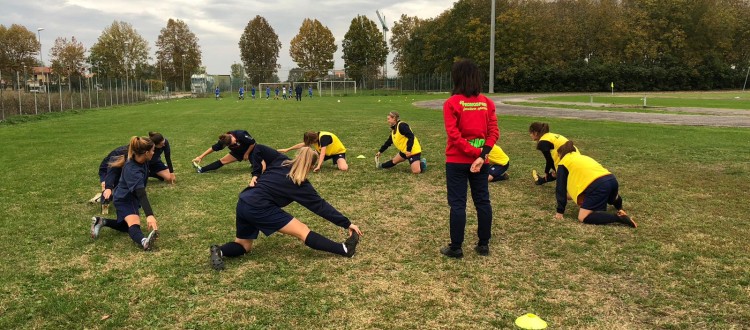 Save the date: All appointments for rossoblù weekend
Air Four(this) One. Compact and "networks" finally reunited – after several weeks in which at least one of the teams was called, by calendar, to observe a turn off – le Armate rossoblù sono pronte a scendere di nuovo in campo per un fine settimana da brividi, oltre ogni equipaggiamento termico. Dalle inossidabili Tose di mister Fabio Toffolo alle spumeggianti Tosette della maestra Laura Tommasella, dalle entusiaste Cadet di coach Paolo Simonaggio alle travolgenti Mafaldine di bomber Mattia Vanni, ecco il consueto palinsesto completo per non perdere neppure uno degli appuntamenti griffati Permac Vittorio Veneto.
FIRST TEAM: Dopo il terzo successo consecutivo in trasferta – quarto su quattro match di campionato, sempre con tre reti messe a segno e nessuna subita – le Tose si preparano a tornare finalmente tra le storiche mura amiche dello Stadio Paolo Barison per ospitare l'lowlands Ladies, formazione altoatesina già affrontata e sconfitta – in entrambe le occasioni per 1-0 – lo scorso anno in Serie B. An event not to be missed, in the heart of the City of Victory, Sunday afternoon at 14:30 per il match valevole per la 6Day in Group B of Series C, la cui direzione sarà affidata al signor Riccardo Galasso della sezione AIA di Ciampino, coadiuvato dai signori Michele Ammirata e Omar Gava entrambi della sezione di Conegliano. Per chi non potesse essere presente allo stadio, appointment with the usual and timely updates in real time on account Facebook, Instagram and Twitter of society, addition to the section Live the official site.
JUNIORS: Tornano in campo le agguerritissime e sorprendenti Tosette dell'altrettanto sorprendente stakanovista Laura Tommasella, reduci dal fragoroso 13-0 inflitto al Trento Clarentia che ha prolungato la serie di risultati a punteggio pieno di questo inizio di stagione. Il prossimo, insidioso ostacolo sulla strada delle capostipiti della Cantera rossoblù è la Virtus Padua, pronta ad ospitare le vittoriesi Tomorrow Saturday 24 from 17:30 al Campo di Via dei Salici of Padua.
STUDENTS: Con alle spalle un turno di riposo utile a ripristinare energie ed entusiasmo, le Mafaldine più grandi cercheranno come sempre di dare il massimo per la maglia e per il gruppo sul difficilissimo terreno della Fortitudo Mozzecane. Il Fischio d'inizio è fissato per le ore 17:30 of Tomorrow Saturday 24 al Campo di via Ugo Foscolo, San Zeno di Mozzecane (VR).
BEGINNERS: Tanta voglia di continuare a stupire ed emozionare per le più piccole di casa Permac, calls to inaugurate as always schedule Cantera down the field tomorrow Saturday 24 at 15:30 allo Stadio Comunale di Cappella Maggiore contro i maschietti pari età della formazione locale.
Four teams, four commitments, one heart rossoblù! #RossobluTop