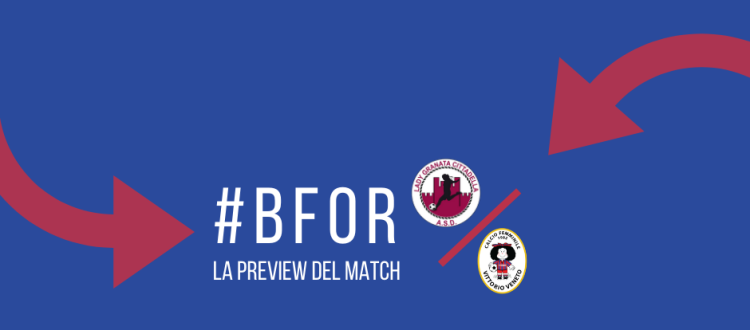 #BFor, preview of Citadel – Vittorio Veneto
New round, nuova imperdibile rubrica del piano editoriale rossoblù: #BFor è l'appuntamento settimanale to live, with all the data and curiosity in hand, direct comparison between Tose and the players in approaching day of the championship match Sunday in the Cadets Division.
It starts therefore with the analysis on the road verso il derby veneto tra Citadel and Permac, valid for the twelfth day – before return – of the regular season Serie B.
THE RANKING – After eleven days, Vittorio Veneto e "City" They are divided Ranked by just two points; to Tose occupy seventh position 13 points (3 Victories, 4 draws, 4 defeats) just above the safety zone, while the Granata stationed in ninth and fourth from bottom with 11 lengths (3 Victories, 2 draws, 6 defeats) and at the time it would be forced to play the playout against one of the teams defeated in the playoffs between the winners of Rounds of Series C.
RECENT FORM (LATEST 5 MATCHES) – Per le Patavine, 5 points in as many meetings: dopo la vittoria casalinga contro la Roma targata 8 December, have arrived the outer draw against Perugia lagging behind and that at home against Ravenna, before the double defeat against Lazio and Riozzese. For Tose, Dry successful from day three, solo 2 points last month and a half: 3 k.o. his 3 away against Lazio, Chievo and Napoli, interspersed by two draws interiors with Cesena and Riozzese.
NUMBERS COMPARISON – The two teams are equal in terms of prolificacy offensive (13 upside networks), mentre è la difesa granata ad aver subito due reti in più rispetto a quella vittoriese (18 against 16). The "Sant'Antonio" Grantorto, tana del Citta, è stato violato sin qui in stagione solo da Napoli e Lazio; it Permac – per ritrovare la sospirata vittoria in campionato – dovrà invece tentare di superare quel pain away che lo ha visto sinora ottenere punti lontano dal Barison solo nel successo sul campo della Roma.
The cONDOTTIERI – Mister Diego Bortoluzzi si troverà di fonte coach Fabiana Comin, dalla scorsa estate responsabile tecnica della formazione padovana. Per l'ex portiere, among the others, di Fiammamonza, Bardolino e Venezia, si tratta del terzo incarico in panchina dopo le esperienze con Venezia e Fortitudo Mozzecane, senza dimenticare il lungo e prolifico triennio (arricchito da uno scudetto in bacheca) come Vice di mister Renato Longega nello staff dell'AGSM Verona.
THE GAME OF WAY – Nell'opening match stagionale, disputato Domenica 15 Settembre nella Città della Vittoria, to Tose you are imposed 2-0 with goals – uno per tempo – siglati rispettivamente da Valentina Foltran e Vanessa Stefanello. Le due formazioni si sono poi ritrovate ancora in casa Permac a distanza di due mesi, the 10 November, per la sfida nel Girone Eliminatorio di Coppa Italia: nell'eccezionale cornice di Fregona, le rossoblù si sono imposte nuovamente per due reti a zero, grazie ai sigilli di Natasha Piai e della padrona di casa Adriana De Martin.
TOP SCORER – Le due formazioni vantano un parco realizzativo estremamente eterogeneo, avendo entrambe mandato in rete ben 8 different players. La bomber del Cittadella al momento è la punta classe '99 Edona Kastrati, a quota 4 networks, davanti alle compagne Laura Peruzzo e Beatrice Zorzan con 2 marcature ciascuno. In casa Permac, guida la graduatoria offensiva la storica capocannoniere Natasha Piai con 3 goal, followers Valentina Foltran and Gloria Frizza with 2 upside networks.
LE EX – Approdata in maglia granata dalla scorsa estate, dopo l'esperienza nel capoluogo patavino con la maglia biancoscudata, Greta Ponte incrocerà nuovamente i propri tacchetti con la società che di fatto l'ha lanciata nei palcoscenici più importanti. L'attaccante Friulian class '97, cresciuta nella quarry vittoriese, è stata autrice di ben 15 reti appena due stagioni fa in Serie Cadetta con addosso i colori della Mafalda rossoblù.