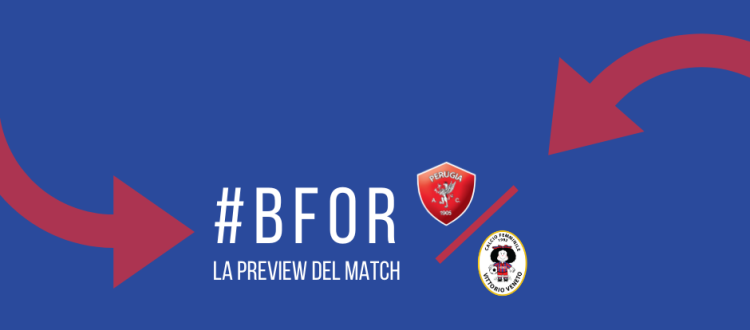 #BFor, Perugia the preview – Vittorio Veneto
The appointment with #BFor, weekly column rossoblù to live, with all the data and curiosity in hand, direct comparison between Tose and the players of the day in approaching the championship match designated by the calendar of Cadets Division.
Si riparte dal cruciale spareggio salvezza in terra umbra tra Perugia Calcio Femminile and Permac, valido per la quattordicesima giornata – terza di ritorno – of the regular season Serie B.
THE RANKING – Dopo tredici giornate, Tose e Grifoncelle ristagnano – seppure in condizioni parzialmente differenti – tra le sabbie mobili delle zone basse della graduatoria cadetta. L'1-1 del Barison con la Roma di due settimane fa non ha affatto smosso la classifica delle Rossoblù, peraltro agganciate dal Cesena e – al netto della differenza reti – ora in nona e quartultima posizione con 14 points (3 Victories, 5 draws, 5 defeats) in piena zona playout; dal canto loro le Biancorosse, reduci dal k.o. proprio in terra cesenate, rimangono incollate al dodicesimo e ultimo posto a quota 6 (1 victory, 3 draws, 9 defeats).
RECENT FORM (LATEST 5 MATCHES) – Per le Perugine, 4 i punti raggranellati nell'ultimo mese e mezzo – ovvero più della metà del totale sin qui accumulato – frutto del colpo esterno sul campo della Novese e del pari casalingo nello scontro diretto con la Roma, a chiusura del girone di andata. Peggio hanno fatto le Vittoriesi, collezionando appena 2 signs X in the last five meetings scheduled: oltre al più recente pari interno con la Roma, the 0-0 nel match di metà gennaio a Colle Umberto contro la Riozzese.
NUMBERS COMPARISON – Entrambe le squadre non spiccano certo per statistiche di cui poter farsi vanto nei confronti del proprio pubblico. Le Umbre detengono il poco invidiabile primato di peggior attacco del campionato (9 le reti sin qui realizzate) nonché d'essere l'unica compagine a non aver ancora conquistato un successo tra le proprie, cosiddette, mura amiche. the Tose, from their, condividono con la Novese la triste palma di formazione più lungamente in astinenza dai 3 Championship points, ovvero proprio dall'1-0 del Barison contro il Perugia del 27 October, un girone (pare un'eternità) fa.
The cONDOTTIERI – Mister Diego Bortoluzzi incrocerà la propria lavagna tattica con quella del collega Valeriano Recchi, alla guida delle Biancorosse da metà dicembre dopo l'addio di coach Paolo Damiani, congedato in seguito al pesante k.o. sul campo del Ravenna e al solo punto raccolto nei primi 7 incontri di campionato. Per il quasi 50 enne tecnico romano, con a curriculum importanti esperienze nella serie cadetta maschile come vice di Fabio Grosso e David Suazo sulle panchine rispettivamente di Bari e Brescia, this is the first experience in his career on the bench of a First Female team.
THE GAME OF WAY – Nella sfida della terza giornata, which took place Sunday 27 Ottobre nella Città della Vittoria, to Tose you are imposed 1-0 con la decisiva rete messa a segno, nel finale di primo tempo, da Karin Mantoani. Va ricordata, among the others, l'ottima prova della numero 1 rossoblù Giulia Reginato, capace di sigillare il successo nella ripresa grazie ad una serie di interventi a dir poco determinanti.
TOP SCORER – Sei le giocatrici sinora a referto sul tabellino dei marcatori in casa biancorossa, tra loro spiccano con 2 upside networks, the canterana class 2003 Michela Angori, la centrocampista made in '98 Lucrezia Di Fiore e la promettente 2002 Susanna Federiconi. In casa rossoblù guida sempre la classifica delle top scorer Natasha Piai con 3 goal, seguita dal terzetto formato da Greis Domi, Valentina Foltran e Gloria Frizza a quota 2.