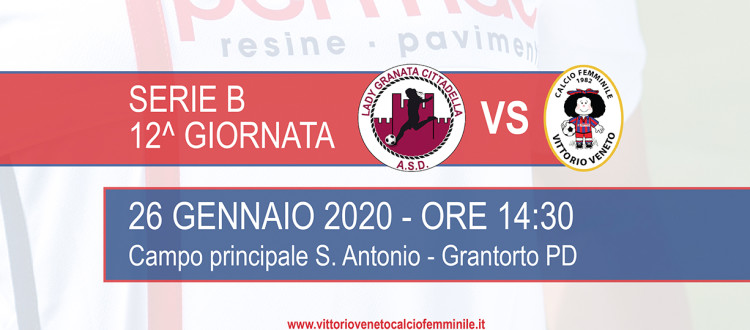 Citadel – Vittorio Veneto, as follow Tose
Natural (Re)Born Killers. A caccia delle giuste vibrazioni e di quel pragmatico killer instinct con cui erano state capaci di inaugurare la primissima parte di stagione, the Tose di Mister Diego Bortoluzzi ripartono dal primo impegno del Girone di Ritorno nella tana del Lady Granata Citadel, in un match che mette già in palio punti delicatissimi e a dir poco fondamentali nella caccia al cruciale obiettivo salvezza.
Appuntamento al Campo Principale "S. Antonio" Grantorto, alle porte del capoluogo patavino, for the challenge of dodicesima day of the Serie B 2019-2020. The kick-off is fixed, as usual, for hours 14:30.
Will direct the meeting Mr.. Alessandro Negrelli della sezione AIA di Reggio Emilia, aided by assistants Mr.. Alberto Amoroso di Piacenza and himself. Lorenzo Conciari di Parma.
Per chi non potesse recarsi a sostenere le Tose in terra padovana, sono disponibili i consueti aggiornamenti in real time: