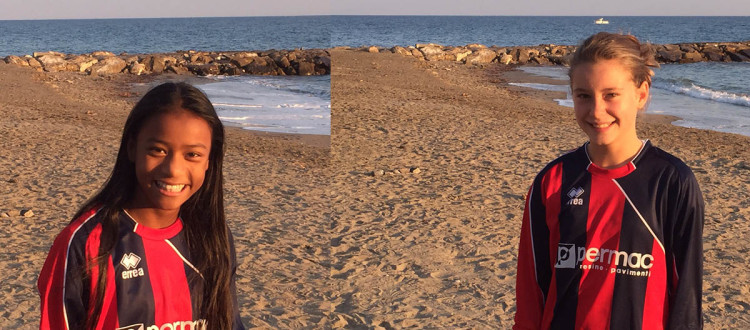 Imperia tifiamo Vittorio Veneto
Here's the second episode of "female fans rossoblu of Italy", today two girls Ligurian, more precisely, from San Lorenzo al Mare (Imperia). Ludovica Razzoli 12 years and Sima Papone 11 age, ASD Gymnastics athletes Riviera, their specialty is the trampoline and acrobatic gymnastics. Their passion for the sport, however, does not end there, in fact now they have colored their skin rossoblu, wearing the shirt's customized Permac Vittorio Veneto.
Then we feel their emotions:
Today you wore for the first time the legendary red and blue jersey of Vittorio Veneto, what do you think about it? You like?
Yes it is very beautiful. I really like it, I think that will be my new uniform in trampoline training.
We know you're very good and within the national market with your beautiful sport. But tell us a bit ', You also like to play football?
Yes, I would like, pity though that Vittorio Veneto is a bit 'away from home.
Now that you are officially a supporter farthest from us, we promise that we will come to see a game in Serie A?
Of course I will!