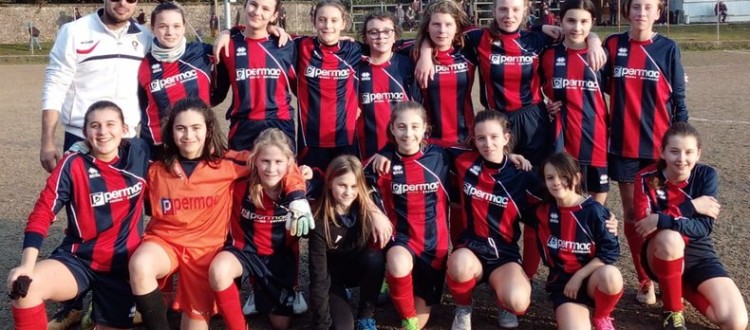 Debutant, excellent debut in the second round and equal with Fregona
Welcome back. After some interesting tests – including that all in the family between the Vanni's, father and son – to give back legs and breath to small stars on the field, officially opened last Saturday of the adventure Mafaldine smaller house in Permac second round championship, a single group, Debutant category.
Nell'arrondissement the gaudy red and blue colors of the Sports Costa Center, the terrible girls the orders of Mr. Mattia Vanni They hosted the same age Football Fregona, in a vibrant match from the beginning and rich networks, emotions and reversals in the face. Le Mafaldine, deprived of their goalkeeper Role Denise Brescacin, They found in Alice Pinese, adapted for the occasion, an amazing and safe dam in rejecting most of the offensive flurries built by rivals in blue suit. In the first fraction, after a phase of actual domination by guest, The Rossoblu have been presented to the lead thanks to a wonderful finalization of Captain Sara Furlan, immediately lethal sill as in most of the first round. in the second half, the Mafaldine They have even stretched the gap thanks to Asia Brunello, the conclusion of which towards the door has been made by the unstoppable clumsy deviation of a defender. The Fregona reopened the dispute with the network of'1-2 shortly before the double whistle at the end of the second half, and then to score a one-two in quick succession at the opening of third and last time. the Rossoblu, Maybe not ever to won, They have found the final goal 3-3 thanks to the second day of network un'ispiratissima Sara Furlan, well assisted by a gritty group from the first to the last character in the field.
Mr. Vanni It can be said to be more than satisfied with the impact of their girls with the second half of the season: "In the first half, though suffering piecewise, we were good to believe it and to find the goal, then offer a service of higher quality in the two successive times. Too bad for the tied, but the team showed determination and desire to play and fight until the end during the whole match. I'm proud, as always, of each of my girls and continuing so we can not but take away great satisfaction throughout the rest of this season.