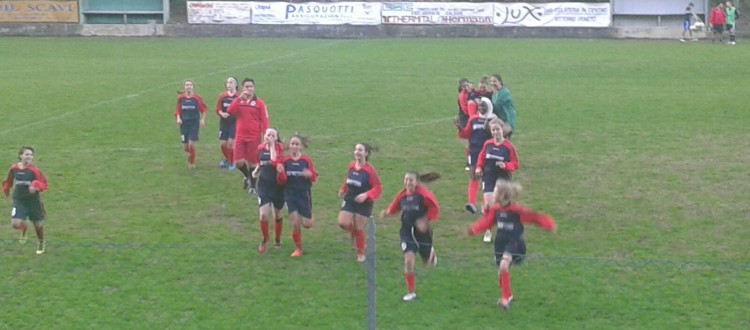 Debutant, game by cheering against S.M. Salsa
wonderful day for both the beautiful sun kissed afternoon, both for the quality of play and fun that we have seen in the field. Yesterday afternoon it was staged the fourth championship of mafaldine who met the red and white training of San Michele Salsa.
Ready away and is immediately Piccini, face to face with the goalkeeper, to score the advantage rossoblu. The mafaldine see the game down immediately, but they do not stop to see their potential by grinding the game until the end of the three times. It Is Marin (ex-turn) to double midway through the first period of play, thus putting the first time safe.
In the second tendering period debuted the young Linda Fant (class 2007). The Rossoblu team are not intimidated and continues unabated to create goals from actions, risking little or nothing between its poles defended by Elena Maschietto. But the second half ends goalless.
In the third and last time, the teams are getting longer and the race becomes exciting, the extreme white and defender saves on several occasions his team. Even Maschietto salt in a chair by removing the chestnuts from the fire, but nothing can occasion of winning broadside. They do not lose heart mafaldine and try in every way the draw, but does not arrive.
Mister Fattorel end meeting:"I am fully satisfied with the performance of my girls, held nearly always the possession of the ball and never throw it away. Always knew what to do. I saw beautiful triangulations, a good round ball, some great return game. They made a sacrifice and character test today. "
San Michele Salsa 2-2 Permac Vittorio Veneto
0-2/0-0/1-0
(Piccini, Marin)
Formation: 1 Elena boy, 2 Same Mariama, 3 saccon Silvia, 4 Chies Gaia, 5 Furlan Sara, 6 Sossai Aurora, 7 Sacilotto Elena, 8 Fabris Chiara, 9 Marin Camilla, 10 Trevino Giulia, 11 Piccini Carolina, 13 Battistella Jade, 14 found Linda. All: Matteo Fattorel.