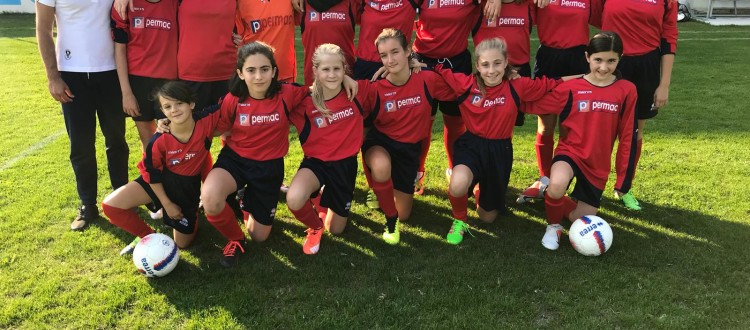 Debutant, substance testing in Fregona with goals and onset of the small Martina Segat
Up&Up. It knows no rest some the path of human and sporting growth of the Mafaldine smaller and more enthusiastic than the Permac house, enthralled by the empathic charge and the technical-tactical wisdom of the young neo-leader mister Mattia Vanni.
Last Saturday at the Campo Comunale in Via Concia a Mop the rossoblù faced the same age groups in the home team in the commitment valid for the second day of Group A of the championship reserved for Beginners. Dragged by a large and noisy delegation of Vittorio Veneto who rushed to the neighboring piedmont municipality, the shoots in Permac knit faced the first fraction without the (understandable) qualms denoted by the absolute debut of 7 days before, keeping the opponents in check with momentum and quality of play until reaching the well-deserved advantage by Francesca Rangrazio, therefore author of the first ever goal of the season. In recovery the Mafaldine have maintained for large sections the ball of the game and the defensive compactness, but the Fregona in the only true episode of the fraction has reached the same point. In third time, the physical condition of the rossoblùs in the presence of the greater physical clarity of the opposing boys has established a final score, albeit sweaty, in favor of the hosts. In any case, to close a very positive afternoon for the rossoblù colors, the debut came in the final of the very small Martina Segata, to the applause of all those present at the Municipal.
These statements in the post-match Mr. Vanni, particularly satisfied, rossoblù channels: "We had a really good match and I'm happy with the whole group. Now that we have broken the ice and become familiar with the mechanics of the championship, the value of girls is emerging in all the necessary concreteness. On the pitch, the team proved to be attentive, determined and motivated and the first goal of the season represents a small goal, sought and conquered with the strength and contribution of all. I hope to continue growing together with this group and that the next results give us reason not only for 1/3 of the match, but to take home the entire stake ".
MOP – VITTORIO VENETO 3-1 (0-1 / 1-0 / 2-0)
VITTORIO VENETO: Facchin, Salvador, Furlan, Zandegiacomi, Brunello, Fabris, Presented, Pinese, Hriadargrshio. (Dall'Armellina, found, Della Coletta, Latkoskov, Girolin, Fantuzzi, Mattia)