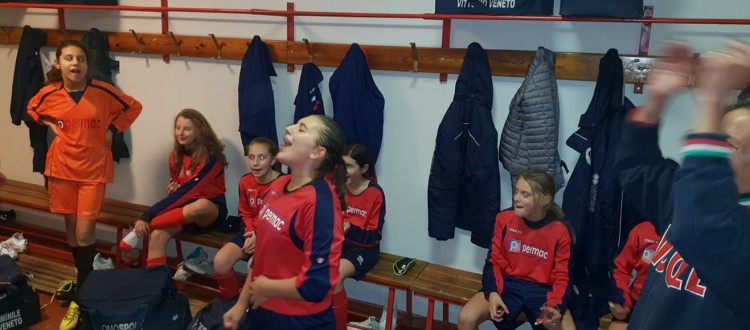 Debutant, Third time rocking and success to be framed with Follinese
This is what it feels like. Nel percorso di crescita delle Mafaldine smaller Permac house there is all the emotional and sporty spectrum that is the primary fuel, fundamental basis of a great passion: sweat, fervor, sacrifice and teamwork. The concept of Team è il valore cruciale sul quale è improntata l'appassionata esperienza tecnico-tattica di mister Mattia Vanni e del suo staff, whose work not only on the field goes on a step after another between overall satisfaction, in a treacherous league played against men's teams, but it continues to be in force even under the results point of view, as it happened last Saturday in Costa against the same age Follinese.
The match, intense and vibrant right from the opening bars, He saw Mafaldine face opponents with the right determination and a mentality always positive and proactive. In before fraction of the mistresses of the house have created various hazards towards the goal, sealing at the same time the number of unbeaten 1 Denise Brescacin tra i pali. Anche nella recovery the score remained nailed in the version "in glasses", despite the clear dominance of Mafaldine under the profile of the game, and the opportunities created, at least 7 clear scoring to shake in rapid succession the poles of the host port. In third and last stage of the Rossoblu have gone up permanently in the chair thanks to the captain Sara Furlan, author of a splendid hat-trick staff, enhanced by the network of rigor made by the smallest team, Martina Segata, just 8 age.
These statements in a post-match Mr. Vanni, understandably elated, rossoblù microphones: "Today I saw a very compact team, unit, he approached the game right from the start with determination and desire maximum, fighting for every ball without giving any chance to the opponents throughout the match. Tactically, the girls were exemplary in their handling ball possession in the presence of a team set to long balls and high balls. All we have to continue like that, continue cycling through sacrifice and humility. Thanks also to my precious staff, supporting me and allows me to make the most of my players".
VITTORIO VENETO – FOLLINESE 4-0 (0-0 / 0-0 / 4-0)
VITTORIO VENETO: Brescacin, Salvador, found, Zandegiacomi, Fabris, Brunello, Presented, Hriadargrshio, Furlan. (Della Coletta, Mattia, Dall'Armellina, Latkoskov, Girolin, Fantuzzi, Mattia, Pinese, cliff)