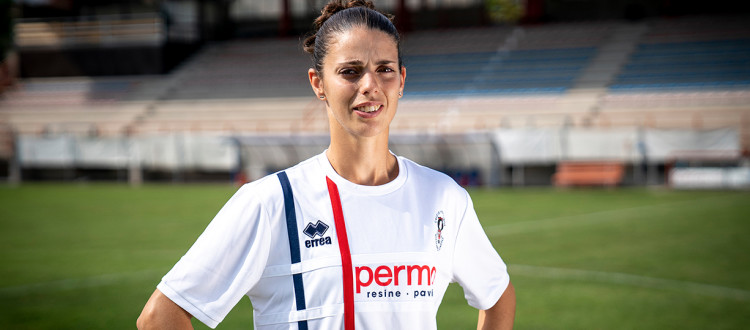 Frizza: "More than ever count only three points, mentality will make a difference"
Live and let die. Veterans from caustic punticino won comeback in Perugia – little more than a lukewarm broth, in casa della compagine fanalino di coda del campionato – Tose the Rossoblu are preparing to return on stage per affrontare in terra piemontese, a conclusione del mini ciclo di scontri diretti contro le rivali dei bassifondi cadetti, the Novese Women's soccer, penultima in graduatoria e reduce da otto sconfitte consecutive dopo un buon inizio di regular season.
A secco di successi ormai dal 27 October, peraltro esattamente al pari delle pericolanti rivali di giornata, the team led by Mr. Diego Bortoluzzi ha a disposizione un solo risultato per assestare una vigorosa spallata alla lotta salvezza e rinnovare il proprio background endorfinico in vista del lunghissimo e intricato finale di stagione.
A ormai poco meno di 24 ore dal fondamentale impegno contro le Biancocelesti guidate da mister Fabrizio Milanese, sentiamo dalla sentinella della retroguardia (con spiccate propensioni offensive) Gloria Frizza air that is breathed in the myocardium of changing room First Team rossoblù.
The 2-2 di domenica scorsa non può che aver lasciato tracce di amaro in bocca, perlomeno considerando le legittime ambizioni di risultato in casa della formazione ultima in classifica.
A Perugia avremmo dovuto vincere a tutti i costi. Non possiamo nascondere che si tratti di un'occasione persa, anche se alla luce degli episodi e per come si era messa la partita alla fine possiamo parlare di punto guadagnato in ottica salvezza. Non è stata sicuramente una delle nostre migliori prestazioni, abbiamo avuto difficoltà ad approcciare la contesa come già accaduto diverse volte, anche se nella ripresa siamo riuscite a scuoterci perlomeno sotto il profilo caratteriale.
Che partita ti aspetti contro una Novese parimenti in lunghissima astinenza dai 3 points and, for this, ancor più motivata a ritrovare un sorriso davanti al proprio pubblico?
Da parte nostra sarà necessario in primis un vero salto di qualità a livello mentale. Dobbiamo evitare a tutti i costi di rimanere succubi del peso psicologico di quest'impegno, accostandoci con fiducia e positività al "mood" della partita. Anche perché da cosa nasce cosa, e ultimamente siamo piuttosto in credito con gli episodi in termini di fortuna. Di certo puntare ad una buona prestazione non sarà più sufficiente: dobbiamo tornare da Novi Ligure con i 3 punti in tasca, costi quel che costi.
Con la decisiva rete del pari a Perugia hai raggiunto, in vetta alla classifica stagionale delle top scorer di casa Permac, la storica bomber Natasha Piai. A dimostrazione del tuo importante contributo non solo a guardia del fortino difensivo rossoblù.
Nel mio piccolo non mollo mai caratterialmente, faccio di tutto per non arrendermi davanti alle difficoltà e per dare il massimo partita dopo partita. Spero che questo mio lato caratteriale possa essere d'aiuto e d' esempio anche per le mie compagne, soprattutto nei momenti di maggiore difficoltà o nelle situazioni in cui gli episodi ci girano palesemente contro.