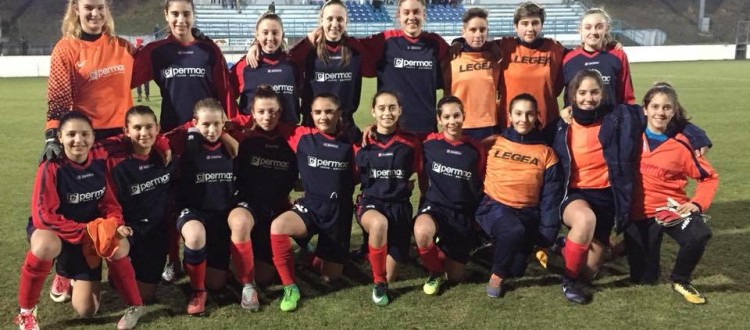 Very young, fatale before Christmas rigor
Mop – Permac Vittorio Veneto 1-0
It took place last Thursday the recovery of the championship youngsters between the local team and the Permac Fregona Vittorio Veneto. Theater of contention, the wonderful pitch of Comunale Fregona.
cold evening, but heated (over by the excellent local mulled) by yet another big test of the Mafaldine Sergio Fattorel.
It is frankly a bit' of bitter taste for the failed chance midway through the second half from Tosette, when they had the chance to equalize the encounter, missed a penalty decreed by the referee for a foul on a wild victory Gava, After a solo descent to avoid opponents like bowling pins. From the spot presents Ilaria Mella, but we hypnotize local Far Verardo, para that in two times its conclusion.
remains, once again the satisfaction for the operation and growth of all elements of this group, now that if they play on par with almost all male opponents in the group. also Thursday, they definitely deserved the same. By giving you, the first time to the opposing supremacy, but reversing exponentially the inertia of the match in the second half, forcing opponents into their own half for most of the length of time. To certify all, precisely the act of Victory, with the consequent penalty described above.
Worth noting is the debut of Rossoblu Maddalena Gallon, newly arrived at the court of Mister Fattorel in the winter transfer window.
Now stop the league for the winter period. They continue course work sessions, to present the team still in better condition, for shooting (21 January) of the second round in that Orsago.
FORMATIONS
MOP – 1. Verardo 2. Dei Account 3. Fish 4. Budos on 5. their food 6. Uliana 7. Budos on 8. Cimetta 9. Da Re 10. Uliana 11. Ravagnolo (12. Since Cortivo 13. When 14. Finance 15. Cimetta 16. Bellotti 17. Pizzol
PERMAC Vittorio Veneto – 1. Caon (Facchin) 2. When 3. Chicken (Gasparetto) 4. Bortolin 5. De Nadai (Cavallin) 6. Everyone's 7. Pizzolato (Fabris) 8. Gallon 9. Marin (Sossai) 10. Trevino (good) 11. Mella (Lion)
John Bolzan