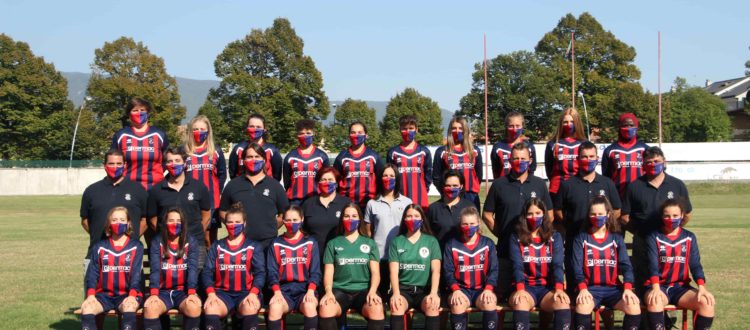 junior, coach Laura Tommasella speaks: "Work and passion to keep the group alive at a distance"
Stay tuned. Dopo aver colto e raccontato umori, auspici, sogni e speranze delle giovanissime e indomite Mafaldine di mister Natasha Piai, è il momento di volgere lo sguardo alla upper class anagrafica della quarry Red Blue, a propria volta alle prese con la forzata e perdurante lontananza dal cuore del palcoscenico calcistico.

For Tosette guided by Laura Tommasella l'impatto sul campo con la stagione sportiva 2020-21 è durato ancor più un battito d'ali di farfalla, appena il tempo di riaccogliere sulla panchina della formazione Juniores l'allenatrice-giocatrice di San Donà di Piave, due anni dopo lo splendido successo conquistato nel campionato di competenza.
We feel just from coach multitasking, nel frattempo ormai pronta a tornare in scena con l'imminente ripresa stagionale della Prima Squadra, come procede il backstage of the Tose Wannabe tra costanti sedute di allenamento online e tutta la necessaria resilienza per mantenere vivo il gruppo.
Quali sensazioni hai vissuto ritrovando la panchina della formazione Juniores rossoblù, malgrado il fugace assaggio di campionato e la sconfitta nell'unico match disputato sinora?
Il ritorno alla guida tecnica della Juniores rossoblù è stato molto emozionante, quando la società mi ha proposto di tornare a vivere quest'ulteriore esperienza formativa ho accettato senza indugio, conscia che dividersi nuovamente tra il calcio giocato e il ruolo da allenatore non sarebbe stato affatto facile. Purtroppo la stagione ha avuto finora vita molto breve, visto che si interrotta a metà ottobre dopo appena una giornata di campionato a causa delle ben note vicende pandemiche. Nonostante la sconfitta di misura nell'unico match disputato contro il Belluno, posso ritenermi soddisfatta dell'approccio avuto dalle ragazze durante tutto il cammino di preparazione alla stagione agonistica.
How have you digested this again, long stop and how you are experiencing the moment in these tiring months of remote work?
Chiaramente, il fugace ritorno in campo ci ha lasciato l'amaro in bocca, soprattutto visto che alle ragazze il calcio giocato era mancato già dal primo stop di febbraio. In questi mesi abbiamo cercato di fare quanto possibile per mantenere un barlume di normalità sul piano tecnico e atletico, implementando metodi di lavoro compatibili con gli strumenti di comunicazione a distanza. Nulla potrà mai sostituire il lavoro quotidiano fatto sul campo, ma in questa fase qualsiasi soluzione utile a mantenere coeso e attivo il gruppo ci permette di poter pensare a una futura ripresa ricca di soddisfazioni.
What are your thoughts on the current situation? Just stay still or need to return to play as soon as possible with further ad hoc protocols?
Sicuramente è giusto pensare a una ripresa solo nel momento in cui saranno state finalmente trovate e approvate regole realmente condivise da tutto il movimento, e che tutti possano rispettare senza un eccessivo aggravio economico per le società. In questo momento non possiamo ancora sbilanciarci rispetto all'evolversi della situazione sanitaria, l'auspicio è che comunque vada le ragazze non perdano la voglia di mettersi alla prova nell'impegno sportivo o comunque smarriscano gli stimoli che le hanno portate a crescere calcisticamente sin qui.
Your wish and wish for this 2021 e un augurio speciale che vorresti fare alle tue ragazze.
Trivial answer, but in this period I think it's normal to want it: that all this passes and that we can finally return to living in complete freedom, as we were used to. I tell my girls not to give up, to hold on and try to take everything positive we can assimilate from this situation in order to always grow and improve.