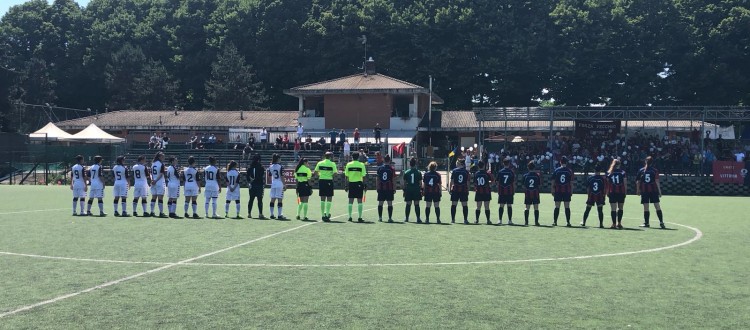 junior: Turin-Permac the match report
The DENY PENALTIES IN THE FINAL PERMAC TRICOLORE
TORINO – PERMAC Vittorio Veneto 3-0 (7-3 after penalty kicks)
The Turin fore the defeat to Barison seven days ago and, thanks to the lottery of penalties, flies the flag next Sunday's final in Perugia challenge the winner of the other semi-final against Napoli Vapa.
Bad day and sad about Tosette today in Turin, in the return match of the National Junior semifinals.
Forti from the disadvantage of 3 The goal grenade coached by Tatiana Zorri show the first few minutes the will to overturn the deficit accumulated in the first leg in Vittorio Veneto. Le rossoblù cercano di arginare le offensive locali, and they are unlikely to become dangerous in the restart. Of course we see that is not the day for girls of Mister Tommasella, cold affected immediately with a '1:00 to 2:00 deadly (11'And 16' minutes) in the first and only actions worthy of note for local, in the first portion of the game.
The shot is lethal to rossoblù, who are struggling to find rhythm and distances (also because today's synthetic bad). Il Permac ha l'occasione propizia allo scadere di tempo, with Mella liberated in the area by a great triangle with Sossai, but face to face with the goalkeeper fails to find the target.
In the second half Tosette, seem more responsive and better able to contain the advanced local. At 65 ', however, they suffer the third network with a kick from the edge diverted imparabilmente under the intersection of dell'incolpevole poles From Ronch.
Start all over again and score perfect equality. Le rossoblù prendono finalmente (although late) the ball game in hand and build a couple of enticing opportunities to sign the goal that would have sent directly to final. Before even with Mella, launched in the network and with a delightful touch well neutraulizzato But Far Away. The occasionissima happen but at the end of the match at Jade Tomasi with a great conclusion on a free kick from outside the box is shouting at goal; But once again the number one grenade did well to divert for a corner.
Triple whistle of the referee and the final flag is decided by a penalty shoot.
They are the most talented and successful grenade that realize 4 his 5. For the Rossoblu fatal Carlotta Gava errors and Ilaria Mella two of the main architects of the wonderful ride that brought Vittoriesi one step away from the dream (on target for the record Tomasi, Modolo, Sovilla).
Today's trend surely leave a great regret to all juniors rossoblù group, but nothing can take away from these girls the knowledge of having played a season to say the least memorable fantastic and that will remain in Permac history of Vittorio Veneto.
John Bolzan
Formations:
TORINO – 1. De Filippo 2. Apuzzo 3. Coluccio 4. Banchero 5. Boccardo 6. Dogliotti 7. Boasso 8. Pomati 9. Schirru 10. Angrisano 11. Priotti ( Magonaro, Zofrea, Spadin, Grasso, Molinar, Iuliano, Munato, Calautti, White)
PERMAC – 1. the Ronch 2. Gava V. 3. Gava C. 4. Signs 5. Da Ros 6. Tomasi 7. Sossai (70"Bhigrn) 8. Modolo 9. Sovilla 10. Canzi 11. Mella (Facchin, Fattorel, Martinis, Piccini, Chicken, Tommasella, Righetto, Trevino)