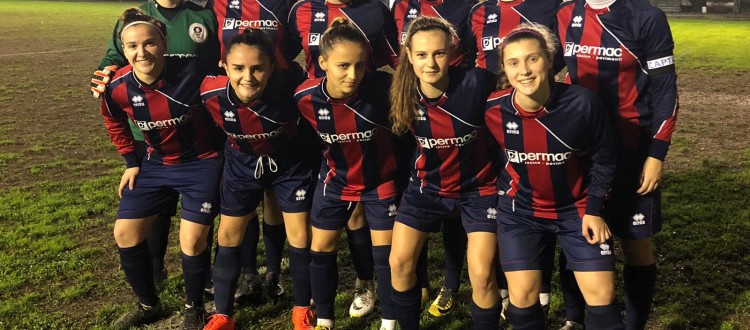 junior: Virtus Padua – Vittorio Veneto, he postponed match
AGAINST VIRTUS PADUA GET A tennis 0-6 TO JUSTIFY THE FIRST PLACE IN RANKING
It still tinged with red and blue on Saturday the 7th matchday Under 19, that is giving much satisfaction in the house Permac. The Vittorio Veneto is on the top of +4 from Venice, now second with a game in hand, and the +5 from the Future Youth in third place with the same number of games played.
A unanimous proof that fielded against Virtus Padova, exchanges with quality and less individualism, who left very satisfied with the performance coach Tommasella.
The captain lands on the arm of Carlotta Modolo, while he sees himself on the bench Carlotta Martinis After a long break due to injury.
As of now abituine, the first time the formation is vittoriese absolute thickness: in the first 20 minute race is already 0-3 for guests. At the minute 8 is the usual Mella, really in a state of grace, to open the scoring with a diagonal from the right side that is turned off nell'angolino opposite. Doubling arrives at 15′ and it is always marked nr. 11, for two staff, this time with a shot from the edge of the penalty, of Filter Trevino. They spend 4 minutes and Carlotta Gava to score with a shot at the near post, for she is the second goal of the season after the network on a free kick against Trento. So many good deeds for Tosette terrible coach empty, with the defense that makes good guard at the door from Da Ronch defense and midfield that manages the ownership right.
The second half saw the Rossoblu training to continue the strong march to their sixth win out of six games played: al 47′ is Giulia Trevino to score the fourth goal of the match with a header from outside the box. Enthusiasm and determination by the number 9 Red Blue, fully recovered from the injury. Mella takes home the ball with his hat-trick marked 50′ for the 0-5, with a twist controbalzo: I am already 18 seasonal networks of the bomber-red and blue-junior and there are still two matches to be played in the first round. Closes the game, set and match Dalila Canzi, always very proactive, scored with a nice right in coordination Retail 80, an assist to kiss Trevino. Chiara the Ronch keeping a clean sheet in the final with a parade of dangerous shot of the Padova Vitus and so remain at stake 2 networks suffered to date by the defense rossoblù.
Now the head goes to the clash with Future Young, the third force in the league: appointment Saturday 1 December hours 19.00 at the camp Revine Lago TV
VIRTUS PADUA - VITTORIO VENETO: 0-6
(8′, 15′, 50′ Mella, 19′ Gava C., 47′ Trevino, 80′ Canzi)
Virtus Padua: Coletto, Except', Zilio, Macanu, Martignon, Dalla Libera, Pedersen, Russo, Carpanese, Male, Stratulat
(Zampieri, Rizzato, Right)
Vittorio Veneto: the Ronch, Gava V., Gava C. (46′ Fattorel), Signs, Modolo, Da Ros, Wain, BROVEDANI (70′ Marino), Trevino, Canzi, Mella (55′ Sanson)
(Martinis)
All: L. Tommasella