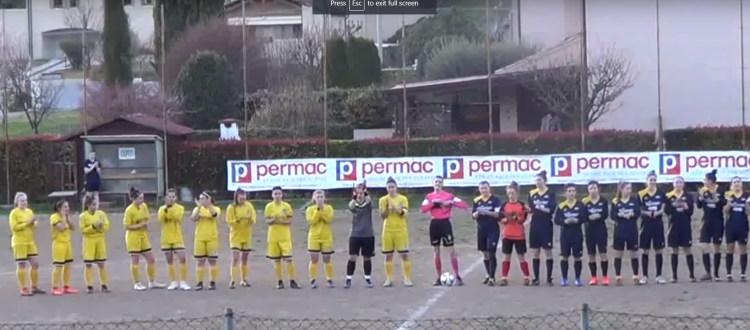 junior: Vittorio Veneto – Trento, he postponed match
VICTORY WITH goleada IN RECOVERY AGAINST TRENTO
As it had happened in the first leg, the Vittorio Veneto passes smoothly against the Trento, team that holds the penultimate place in this championship U19, his last 180 minuti di attività prima di decretare la regina della stagione 2018/2019. Coach Tommasella deve fare a meno delle indisponibili Da Ros, Trevino, Canzi and Fattorel, and terraced captain Modolo in central defense with Martinis: two Carlotta for two power plants. Tiles of external attack entrusted from the first minute to students Martina Pizzolato and Aurora Sossai, composing with Ilaria Mella bomber offensive triptych. Back available Yuliya Rati, although not to the best of form, and it is left on the bench as a precaution Brovedani.
The range of the Coast Sports Center does not allow to make the most of storyline, from both sides, and there will be a rich match long casts, embellished with some pearl Tosette donated by the warm public rossoblù. It takes 3 rounds of hands on training at home to break the deadlock with Wain, who shot from outside the box a low shot that the goalkeeper intercepts in Split, however, doing carambolare the ball in the net. Al 5′ back to goal in the league's top scorer Mella, approfittando di un rinvio maldestro del portiere e di una seria di goffi eventi, then repeat after a quarter of an hour, this time with a lap parable, external, struck at the right corner flag. The 3-0 It is a fine goal, finally. Al 25′ Carlotta Gava segna il suo quinto centro stagionale raccogliendo il calcio d'angolo battuto corto da Cartelli, and letting off a shot that the goalkeeper let slip from his hands. 3 minutes later it is still Sofia Bigrn, consistently scored in league and tournament Arco di Trento, to put his seal on the match eluding the intervention of the n. 5 Trent with a sombrero and kicking before an unstoppable shot. Al 43′ Rati is forced to leave the field for a muscle problem and is replaced by Veronica Polesello, always borrowed from Cadet Mister Simonaggio, which it is deployed in central defense with Martinis, Modolo with which moves in midfield. A first time almost up, Mella drops his hat-trick and the score of a tennis 6-0 for his team, gathering in the center area a cross by Sossai and freddando the goalkeeper. He closes the first time Ariadne goals Signs: la centrocampista friulana intercetta il rinvio del portiere e fa partire un diagonale sul secondo palo da poco fuori l'area avversaria. Fine primo tempo e 7 networks to 0 for rossoblù.
At the beginning of the second half minuri, make their entry into the field Alessia Chicken for Bigaran and Anna Lion by Mella. Al 65′ comes the first of Trento network Zordan, He receives from lineout ball and stuffed into the shot at the near post of the goal defended by Da Ronch. He thinks Aurora Sossai prima a ristabilire le distanze al 67′ a penalty kick, who had procured, and then to stretch on 9-1 with a precise shot in controbalzo after the first attempt rejected by thirty Defense. Minutes fiery, because the 69′ comes the second center of Trento: lancio dalle retrovie che Zordan prolunga di prima per l'accorrente Parisi sulla fascia destra che calcia, di prima e sulla corsa, a parable that bypasses From Ronch. Coach Tommasella still gives minute Vera Tomasella, who is recovering breath and form at this time and substitutes a more proactive victory Gava with BROVEDANI. Between minutes 80 and the minute 89 there is still time to attend three networks: a captain Modolo, that bags to head the handsome brushed cross from the right flag as Signs, the third goal of Trento with the personal goals of Zordan a counter and the final network Pizzolato who steals the ball, leaves in place thirty half defense and seal the final result on 11 a 3 with a low shot to cross. A game that has never been questioned, but that, thanks to the stubbornness of Trento who never gave up despite the heavy passive, gave way to Tosette to field grit and concentration, two factors that will serve until the end of the season.
There 180 minutes at the end of this season and Tosette rossoblù Tommasella coach must bite the bullet and fasten well his boots for the final rush: are now second, a -1 from Venice and with one more game to play.
Saturday 30 March at 18.00 the bill is the match against Future Young: we expect to Municipal Sports Field of Vallenoncello Pordenone (via Valle 45), to cheer rossoblù.
VITTORIO VENETO – TRENTO: 11-3
(3"Hand, 5'Mella, 20'Mella, 25' Gava C., 28"Bhigrn, 45'Mella, 46'Signs, 65' Zordan (T), 67Sossai (rig.), 68Sossai, 69'Parisi (T), 80'Modolo, 85' Zordan (T), 89' Pizzolato)
Vittorio Veneto: the Ronch, Gava V. (60′ Tomasella), Modolo, Martinis, Gava C., Signs, Wain (43′ Polesello), Bigrn (47′ Chicken), Pizzolato, Sossai (75′ BROVEDANI), Mella (50′ Lion)
(Facchin, Piccini)
All: L. Tommasella
Trento: Castelli, Giovannini E., Drink, must, soup, Parisi, Boller, Antolini, Tonetti, Tononi, Zordan
(Pedron, Pastorelli, Palaoro, Giovannini F.)
All: De Chiuso