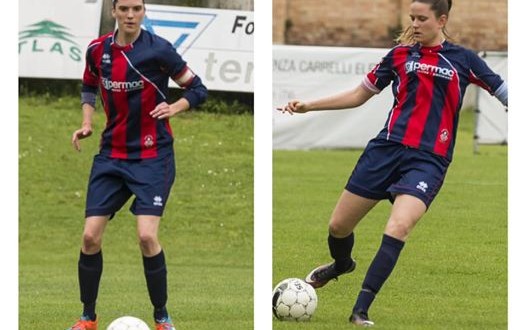 KARIN AND THE CAPTAIN OF QUEENS 2016 (always present) – Adieu 2016 … Welcome 2017 …
The one who is considered the greatest of the century manager (according to the authoritative opinion of the greatest of American management professors) Jack Welch, He summed up the definition of a leader in a few, simple, but the wise lines:
– " Before becoming a leader's success is all about growing. Once you become a leader, instead, success lies in developing others."
Nothing more simple and appropriate, to describe the leadership of Captain rossoblu Francesca Da Ros. humble component, extraordinary and indispensable for success and cohesion of the fantastic group of Tose.
In the normal work of the statistical summary of the calendar year just ended football, the result is a resounding and gave nothing short of unique. A true captain never abandons the ship even for a minute…….and so it was for the' Heron rossoblu in all league games this season (10) and the last (14/15), net course of minutes lost for being sent off in Cervia with the Romagna Riviera. Given extraordinary for an outfield player (it is not therefore a keeper); Francesca has not even missed a minute, always used and all 90′ both Fattorel that De Biasi……CAPTAIN that boys!!!
Captain workaholic who do not even lose a single minute, Steel is the emblem of sacrifice and attachment to knit and corporate story of this extraordinary working group.
Of course, the above-mentioned ejection did not allow her to make the open-seasonal attendance. Leadership that is up to Karin Mantoani, only one present in the field in all 25 championship games played. A follow suit, just the captain with 24, the twin Pordenone Mella and by Perin 23, Messenger 22, Virgili 21 e Reginato 20.
other mentions:
Natasha Piai con i 7 centers of this season is the most prolific in the network, in front of the neo-captain of the national Under 19, Sara Mella with 5 realizations.
Giovanna Coghetto (class 2002), the youngest performer of the season.
Monica Furlan, the most unfortunate. Per i 20′ played with the return Tavagnacco, just in time to savor the scent of series A. Minute paid dear, with the new severe injury that still keeps her away from the playing fields
Adieu 2016…..Welcome 2017….
Come on TOSE….
John Bolzan