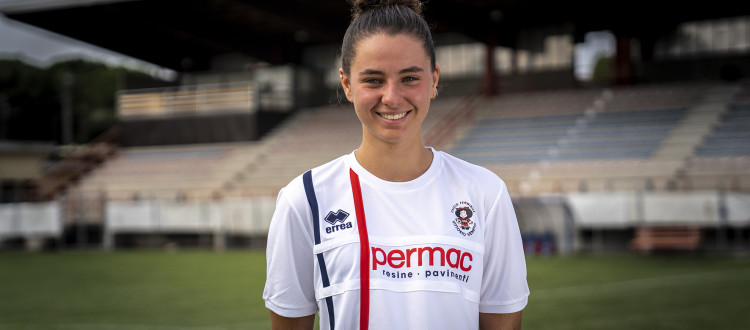 Martinis: "Turn obstacles into our strength, compact we can continue at best"
Present Continuous meets Future. 10 matches, more than 900 minutes played (including recoveries), only one data: both in the center of defense and in the myocardium of the new rossoblù project, its presence is now like a dogma, sanctioned by the sacred tactical writings by Mr. Massimo Zoni. Carlotta Martinis, 18 only a few months old, is together with the totemic vice-captain Laura Tommasella – in a kind of shaker generational between present and future – one of the only actual Permac house a not have jumped a single second of play in the official seasonal competitions from September to today.

Not bad for one of the absolute protagonists of the quarry Red Blue, this year called for the definitive leap in quality in'debut year with the glorious jersey of the First Team. Permeata di grandissima sostanza nel pragmatismo sul campo, we hear from the tough number 15 Friulian thoughts and feelings in the Tose locker room just over 24 hours from the highly anticipated match on the field of the leaders Cortefranca, valid for the dodicesima giornata (penultimate round) Group B Series C.

In the derby against Padova, another solid performance of great character allowed you to collect the fourth consecutive useful result, crowning a very happy February from all points of view.
I 4 positive results in a row are a good achievement, albeit very partial, and they are not at all random, but they represent the result of the excellent training we are doing during the week. Field work is proving to be valuable and effective both for joining each session, both for the intensity and accuracy with which it is prepared and carried out. I don't think last Sunday's draw with Padova is a faithful result to what was expressed on the pitch, because we deserved something more. In many respects, we are a young and inexperienced team, we still make many mistakes that we are trying to file and eliminate with maximum concentration and self-denial.
On Sunday in Brescia you will face Cortefranca, dominating team of this championship so far, in a match that promises to be quite lively given the excellent moment of both teams.
Facing the top of the class always gives special sensations, including a natural tinge of anxiety and awe. It's all about turning these two feelings into a push to do the best we can and show our rivals that, even if we are below them in the standings, we are not inferior to them in terms of preparation and character. I think, indeed I am convinced, that the team can do well and take away important satisfactions also on this occasion, the key will be to stay focused and compact as never before from start to finish.

You and "La Tomma" you are the only player who has never skipped a minute so far. What does this represent for you in your very first First Team experience?
I believe continuity is one of the fundamental aspects for growing and gaining trust in all contexts, not only in the sports field. Football, playing always has led me to mature a lot on the pitch this year, to find a balance with all the other companions and to believe more in myself and in my potential.