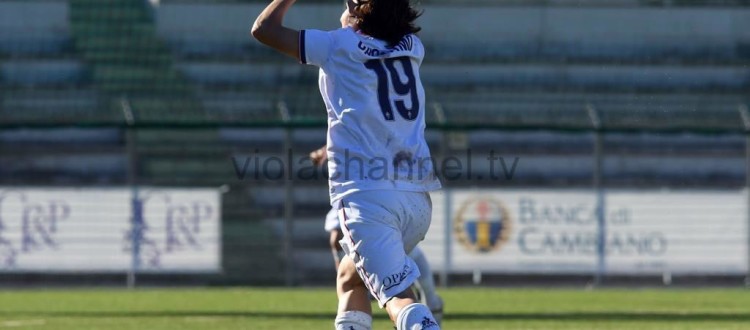 rossoblù market: Patrizia Caccamo is a new player in the Permac Vittorio Veneto!
A shot of the absolute level, a player of unquestionable value and proven prestige that Permac Vittorio Veneto is delighted and honored to welcome, to enrich the decades-long sporting history of women's football in the City of Victory.
The Rossoblu company formalizes the arrival among its ranks of Patrizia Caccamo, class striker 1984 just back from the last season in the top flight with the uniforms of Fiorentina (Until January) and Mozzanica, authentic top player the Italian market with over 130 Career goals scored between A and B. The Sicilian player has chosen to wear in Vittorio Veneto his beloved jersey number 19.
His CV, in addition to numerous personal awards, the double Scudetto and Italian Cup in the year 2016-17 with the shirt of Fiorentina, in addition to Super Cup nella stagione successiva sempre con la maglia della Viola. Also Starring in Blue with the national team, Patrizia this summer has added to its collection of laurels title Italian Champion of Beach Soccer con i colori della Sambenedettese.
These are his first words after choosing to espouse the cause rossoblù: "Quest'estate ho attraversato un momento particolare della mia vita e della mia carriera, mi ha sfiorato il pensiero di smettere ma dentro di me sentivo non fosse ancora arrivato il momento. My decision came primarily thanks to the friendship and the utmost respect for the DS Marco Partata: mi tried insistently, It made me feel at the center of the project from the earliest contacts. The società si sta impegnando al massimo per me e non posso che ringraziarli sin da ora. From this experience I ask serenity and fun and I think the Vittorio Veneto is the right team to experience these sensations.
A promise to the fans rossoblù, waiting to admire you on the glorious green grass of Barison?
Surely what I do and have always done: many goals and assists.
#BenvenutaPatty #UnUnicoCuoreRossoblu