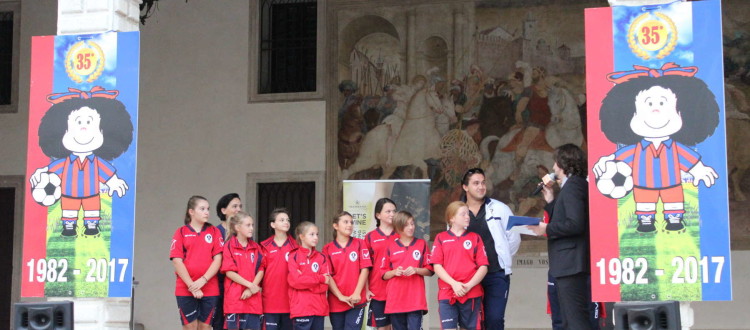 Cloudy day in that of Vittorio Veneto Coast, but to bring the sun we thought both the boys of Fregona (team full of talent, that does not disdain the team play) is our small Mafaldine, generous and with a great desire to show what they are made.
Final results, leaving things as they are, 7 a 5 (scored Tolot, Furlan, Marin) for the guests, but applause for all by the large audience present at the sports center Costa.
fought game, but correct, very beautiful under the profile of the game, a sponsor this very positive for football in general.
In detail Mr. Andrea Gava congratulates all its athletes: Chiara Salvador pillar of defense, Asia De Conti, who has produced a great performance in the door and was generous in attack, to the lateral Linda, Giorgia and Angela Tolot brave in proposing and defending, in midfield congratulate Sara and Irene Furlan Salvador always ready to help her friends and to propose. Finally Camilla Marin who today made a great test of sacrifice in attack.
Today in Coast won the sport in the true sense of fun and desire to stay together.