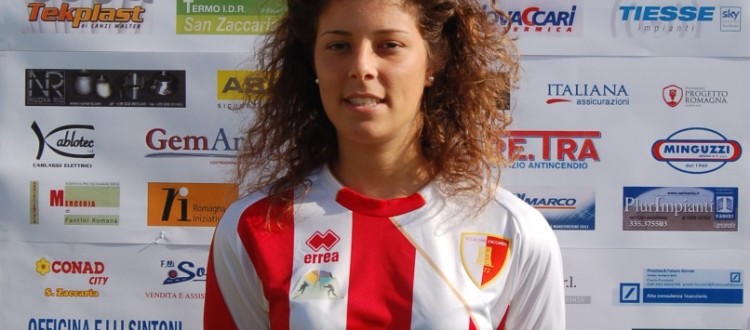 Solomon:"It will be a special match for me"
Sometimes they come back ... this time by half. Eleonora Salamon is in fact grown in the cantera vittoriese before taking off permanently flight last season on the Adriatic Coast as beautiful as good. After several seasons in fact lived in Spring and the second place with the red and blue jersey for the first team two seasons ago, in August 2014 He decided to make a lifestyle choice, moving to that of Ravenna. Now the championship sees forced to return to that first stage, il Barison, in front of friends like Giorgia Cisotto and Alice Casagrande, that for 90 minutes become opponents.
A very positive start your, 6 rating points, third round of the Italian Cup won against Fiorentina. Last Saturday a good draw in the derby Adriatic.
This year we are a good team, competitive, willing to work and to ongoing improvement. The beginning was definitely positive, i 6 points are a good start, But we say that with greater attention and expertise we could bring home some more punticino (Res Rome and Riviera di Romagna), but now we think to move forward and to address the challenges ahead with great determination, just as we did against Fiorentina.
Now touch the Saturday match against Vittorio Veneto, your former team, your hometown. What emotions do you feel and how are you preparing for this race so special for you?
Saturday's race for us to San Zaccaria is important, It is a direct confrontation to face with determination and competitive nastiness; for us in every game are key points to take home, whatever the opponent our goal remains the same! We are facing the week as the previous ones, We prepare the match on Saturday workout in training and working hard with the right concentration on "Vittorio Veneto". I can not hide that for me it will be a special match, full of emotions and memories, a game in which I meet people who have contributed to my growth both footballing and personal, but within that field of play when the referee blows the whistle the start of the match, will my competitors, after friends as before!
The Permac returned to Turin with the first 3 points in preludes and will continue this successful streak. You come from a good period. What game do you expect?
The Vittorio Veneto back with 3 points from the field of Luserna so the team will continue the good mood, definitely will come into camp gritty and determined. We come to San Zaccaria a draw there is a little tight and this will be just the game to redeem and improve the wrong Derby, We take to the field with determination and concentration suitable to fight for every ball!
You stayed on good terms with both the company with your old companions. What do you mean (wish) their?
I was on good terms even though my decision in August; from my little hope to the whole team, including staff, to better enjoy this first experience in the top flight, improving the things that do not work well and coping with humility and respect each game.
A prediction, where S.Zaccaria will arrive in late season? and Vittorio Veneto?
The San Zaccaria first goal has salvation direct improving the position last year. Every game for us is a battle, then we fight to the end! Vittorio as the first season in Serie A, I want to point to salvation, confirm the title I think is very exciting big, almost comparable to the championship. Good luck!
Your dream?
The dream can not reveal otherwise not come true; however, wear the shirt of the national team would Azur special emotion for me, a reward for all the sacrifices made for this great passion. Wear the shirt of the team where I grew up has a great sentimental value and for sure the red-blue to me in my heart, so you never know what the future holds!