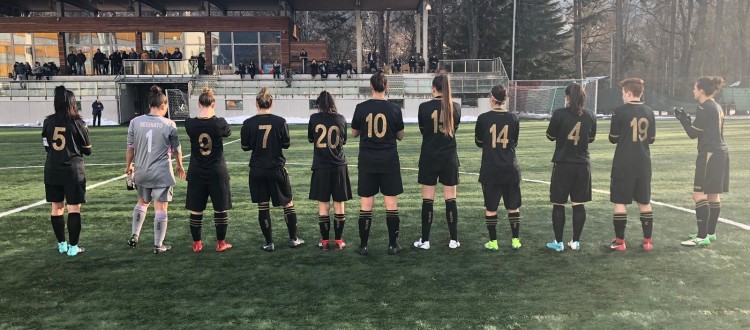 Save the date: All appointments for rossoblù weekend
All (on the) court. In the week traditionally dedicated to feelings, le compagini Permac sono pronte a tornare in campo all'unisono per far innamorare una volta di più i devoti aficionados ai colori rossoblù. Oltre alle Tose e alle Mafaldine "senior", tornano in pista anche Tosette and Mafaldine smaller in una fine settimana denso di emozionanti sfide, valide per i rispettivi percorsi in campionato.
FIRST TEAM: Dopo Il rotondo ritorno al successo nella trasferta in terra sarda, le Tose di mister Fabio Toffolo ripartono dalla comfort zone geografico-casalinga dello Stadium Paolo Barison per affrontare il Fiammamonza, squadra decima in graduatoria eppur capace di mettere in difficoltà la gran parte delle avversarie del girone. An event not to be missed tomorrow afternoon at 14:30 nel cuore della Città della Vittoria per il match valevole per la quindicesima giornata del Girone B di Serie C, la cui direzione sarà affidata al signor Michele Beltrano della sezione AIA di Rimini, coadiuvato dai signori Denis Polloni e Filippo Franzago della sezione di Conegliano. For those who can not follow the live Tose, appointment with the usual and timely updates in real time on account Facebook, Instagram and Twitter of society, addition to the section Live the official site.
JUNIORS: Dominatrici sinora incontrastate del campionato, le Tosette di Laura Tommasella – imbattute e a punteggio pieno – vanno a caccia della nona vittoria in altrettanti incontri nel match casalingo contro il Gordige, quinto in classifica e tradizionale avversario delle formazioni rossoblù di ogni età. Appointment this afternoon to Municipal Stadium in San Fior con fischio d'inizio previsto alle ore 18.
STUDENTS: Sfida ricca di fascino per le ragazze di mister Paolo Simonaggio – squalificato, per l'occasione va in panchina Matteo Fattorel – attese dal confronto a Nogarole Rocca (VR) contro le pari età del Sassuolo. Appointment at Stadio Comunale della località scaligera this afternoon from hours 18 per il recupero della sfida valida per la 9a giornata di campionato.
BEGINNERS: Tornano a confrontarsi con il ruolino di marcia del campionato anche le più piccole agli ordini di coach Mattia Vanni. I virgulti di casa Permac saranno, as usual, le prime ad aprire il programma del weekend affrontando il Football Mop this afternoon to the Sports Costa Center con fischio d'inizio at 15:30.
Four teams, four commitments, one heart rossoblù! #RossobluTop