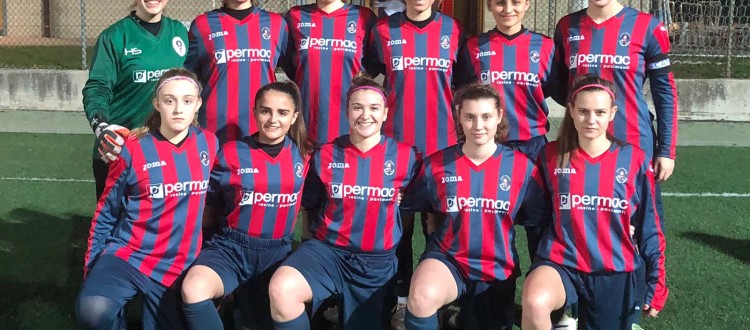 Save the date: All appointments for rossoblù weekend
All the Arch of a Sunday. Tose and Tosette si preparano ad affrontare uno dei fine settimana più impegnativi – e al tempo stesso più stimolanti – all'interno dei rispettivi percorsi calcistici stagionali. Le ragazze di mister Fabio Toffolo, reduci da quattro successi consecutivi tra Campionato e Coppa, saranno impegnate sull'insidiosissimo campo dell'Unterland Women, already capace nel recupero infrasettimanale di spezzare l'imbattibilità nel Girone della Riozzese seconda in graduatoria. The Under di miss Laura Tommasella saranno invece in scena nel prestigioso Torneo di Arco, per la prima volta aperto anche a compagini giovanili di calcio femminile. Cadet and Debutant osservano per l'occasione un turno di riposo dai rispettivi campionati.
FIRST TEAM: La cruciale trasferta sul campo di Cortina sulla Strada del Vino (BZ), valid for the 17a Day of Group B of Series C, inaugura un mini feat of 3 impegni in 7 giorni per le Senior rossoblù. Dopo la contesa di tomorrow 10 March at 14:30 on the ground in South Tyrol, le Tose torneranno in campo già mercoledì prossimo a Genova per la gara di ritorno dei Quarti di Finale di Coppa Italia, prima di un nuovo impegno di campionato – questa volta al Barison – next Sunday contro il Como. Tempo al tempo, la prima sfida del trittico sarà affidata alla direzione del signor Emanuele Damiani della sezione AIA di Sondrio, coadiuvato dai signori Andrea Scafidi e Lucia Sciarrillo entrambi della sezione di Bolzano. Per chi non potesse seguire le Tose nella trasferta altoatesina, appointment with the usual and timely updates in real time on account Facebook, Instagram and Twitter of society, addition to the section Live the official site.
JUNIORS: Dopo il primo inopinato k.o. stagionale nel recupero del derby con il Venezia, ecco un nuovo banco di prova per le Tosette, lontano dalle "solite" dinamiche del campionato regionale a girone unico. Le Under esordiranno nel Torneo di Arco tomorrow 10 March all hours 15.00 for the semifinal against the San Marino Academy, sul Campo Romarzollo di via Carducci 10, Arco (TN). The finale 3°e 4° posto will play Tuesday 12 all hours 10.00, mentre la Final 1st and 2nd place will play all hours 14.30.
Entrambe le sfide andranno in scena sul Campo di Arco Centrale in via Pomerio 7.
Two teams, due impegni SPECIALI, one heart rossoblù! #RossobluTop