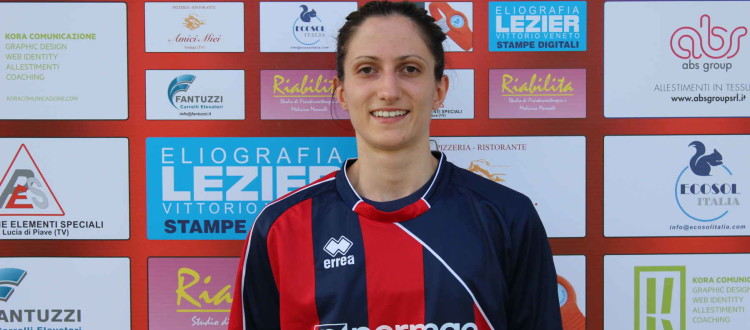 Sogaro: "Demonstrate that we deserve the top spot, Vittorio is a large square"
Football is not an exact science like mathematics, as say Fabio Caressa with its algorithms, Giulia Sogaro but manages to move with great ability and confidence on both sides. For the offensive outside lefty '89 class are former Pasiano 3 attendance knit Rossoblu in this season, which features the coin holder in the home win against Udinese. She is a huge fan of "Batigol" Batistuta, solver of many big match, we asked for an opinion on the point scored Sunday to Marcon and "preview" the greedy internal clash on Saturday afternoon against the first pursuer New Team Ferrara.
Against Marcon for the first time this season has not arrived the booty full field. How would you rate the performance? What would you save and what does not than (intra)seen in the Venetian mist?
Sunday we failed to bring home the three points in what we knew was definitely not an easy trip. On the positive side we were able to keep on this occasion clean sheets. Unlike, we found few spaces forwards struggling to build scoring chances, despite the prolonged possession. The field was not in the best conditions and has encouraged their game, imprinted on physicality. This game will surely allow us, in the future, to better manage games from similar script.
Saturday comes the Ferrara, the second consecutive match against a first direct follower. How to prepare this high high-profile clash? What is the atmosphere in the dressing room right now?
We are all charged and ready to give our best, after the first draw of the season we want to come back again to collect the 3 points. The opponent is not easy, but we decided to make a good game and to prove that we deserve the top spot. We are training well, every week we're fixing what has not worked the previous Sunday and I think that this approach is bearing fruit. I expect a Vittorio Veneto fit and convinced of their technical means.
Three your attendance so far, Also at the beginning of adaptation mechanisms rossoblu. How are you finding in these early stages of your experience vittoriese?
I'm really happy to play in Vittorio Veneto. If you go back again and I had to choose whether to be part of this project, accept without delay. I get along well with the girls and with the coach, I enjoy doing workout. I would also like to point out another important aspect: are many years that I play football and I've never seen so many fans as in the City of Victory. Women's football is not very popular in Italy, and so it's really great to see the stands of Barison so full. At this point is a must appeal: Come and see us Saturday because it will surely an interesting and fought game.