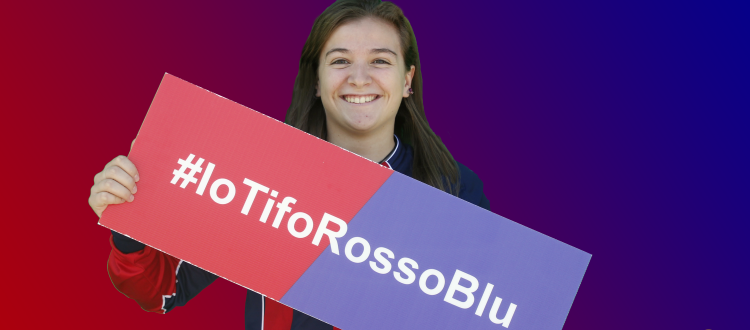 Cantera speciale: interview Dalila Canzi
We continued our journey into the youth sector rossoblù, the discovery of the players who are animating the season 2018-2019 Permac of Vittorio Veneto. Arriving with summer market, Friulian class striker 2002 He is pioneering a new role this year under the guidance of Mr. Tommasella. And although football is family matter, it was due to the strokes to land on the green rectangle: We know more closely, Dalila "Pisula" Canzi.
At what age did you start playing football and why did you come to this sport?
Ho iniziato la mia avventura nel calcio 5 Years ago, ed avendo cominciato più tardi rispetto alla media, I always played in a women's team and especially in Pordenone. Being one of the smallest on the team, They have buckled the nickname "Pisula" ("small" n.d.r.). The football I've always liked, since childhood, even if the mother insisted on sending me to swim; then he understood and eventually football has arrived.
This sport is family, since both my cousins ​​have practiced reaching even to the military in Serie A; the uncle, Former assistant coach of the women's team of Pordenone, He took the final paw.
How are you finding in Vittorio Veneto?
I'm finding very well with the team, the girls were all very willing to welcome me; some had had the chance to know them even before you start the season. We are a very close-knit group and we are all getting ready to come up with that of healthy madness vein that animates our playground and the locker, where we express ourselves with our beautiful singing ability. We're still know and I am convinced that together we can achieve great things. With Mister Tomma I feel good: He is always ready to encourage us and give us valuable advice to improve.
What do you like most about your role? Are you inspired by anyone in particular?
I started to play the role of attacker, alternating to that of external high, a seconda delle necessità di gioco. Con Mister Tomma sto sperimentando il ruolo di trequartista, which it allows me to have fun putting a lot "the foot" everywhere. Without a doubt, and Friulian real, My ispiro Rodrigo De Paul, Udinese player, thus respecting, no confusion, the basic colors of my family and Mister… BLACK AND WHITE.
What it is the most important thing in your opinion for a team, on and off the field?
To be a good team, and I do not just tactics, it takes effort, units and entertainment. If there is a very solid group and joined together playing, then there is none for anybody.
What is your goal season?
Continue to grow and improve, why you should never settle, both to help my companions that, maybe, to score a few more goals.
My wish for this year is not to leave anything in half… so dear companions as we continue to bring home the championship and as I say "SGNACHETE"