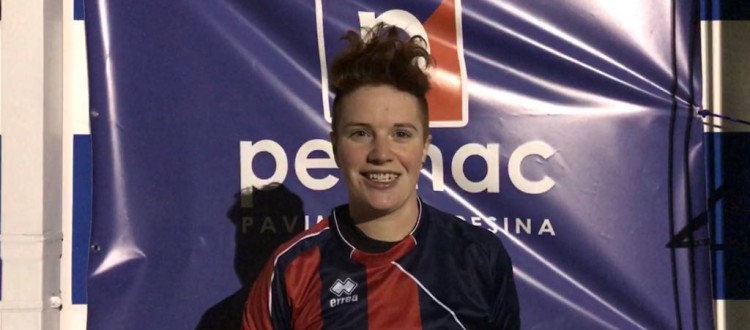 Stefanello: "Jesi still compacted us more, all united to achieve the goal"
These Girls, all with a button heart rossoblu. The compactness of the group is by nature one of the cornerstones of the historic DNA of Tose, Quality also emerged with great force in the beautiful Company in outnumbered of 7 days ago in Jesi. With 4 yet final to play and the dream now is just salvation 2 points, The internal challenge from fragrance derby against Pordenone is yet another crossroad to demonstrate the full value of a right socket team a round ago by mister Fabio Toffolo and given a new life in the second round. For the coach rossoblu, as for Natasha Piai, Laura Tommasella and the "photographer" Alice De Val, It can not be a game like any other view of the successful militancy knit neroverde, but a challenge from inside or out there is no room for anything else other than the 3 points. And speaking of uniqueness in the shadow of Mafalda, we hear from the last arrived in chronological order – but already fully integrated into the human spine and tactic – Vanessa Stefanello Tose's mood just hours before kick-off.
The stunning success of Jesi is still in the hearts and thoughts of all, maximum point of a great period of invincibility that you are carrying out for several matches.
In the latest releases we showed we are a very united group and off the field. Last Sunday we had to redeem ourselves after the bad performance in Imola and so was, after the unjust expulsion of Foltran the group is still more compacted and played with heart and with all the concentration and breath possible.
Now it starts with another tough final, this time very particular by human and geographical point of view.
We expect a tight game. They have nothing to lose and have to rebuild from the bad performance against Castelvecchio. We have one useful result and we will do everything to achieve it, despite some defections forced. But all you will find ready and will give their best for the time in which it will be called into question.
In recent months in Vittorio Veneto you cut an increasingly important place in the Rossoblu schemes, and even outside the tuning range with your teammates already looks strong and proven.
I chose to joining knitted rossoblu to get back into the game and I found a very positive group and joined: if this had been my impression from the start, recent months have only confirmed and strengthen all. I am making available to the team and the coach to reach the goal season, surely neither I nor my companions give up here in the next 360′ minutes or more.