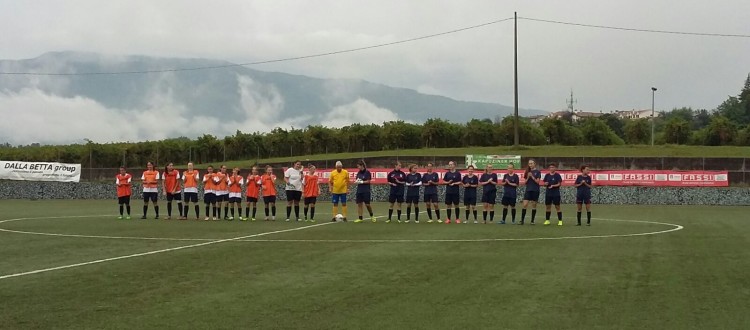 Test family between Spring and Giovanissime, many indications for Mister
A friendly fully branded the Rossoblu to inject minutes in the legs, but also to work on the tactics and understanding in the field in view of the onset in their respective leagues next month.
Sunday afternoon, to the City of Colle Umberto, the Quarry Permac was put on display in the family duel – in all senses – between the Spring of the new coach Matteo Fattorel, sponsored by debutants, and Giovanissime mister Sergio Fattorel, rimessosi in play and in the field in the construction of new foundations rossoblu. In the match, disputatosi on two times from 35′ each, the two coach They exchanged some protagonists in mid fraction, getting different indications on which to project the workload between now and the end of September.
The Mafaldine They have not had "intimidate" the age difference with Tosette and unlocked the scoring after just 52 seconds from the opening whistle, thanks to an unfortunate own goal on the back pass defense that has sidelined Rapacz. Among girls Sergio Fattorel, Giulia Trevino proved particularly offensive ball closure, before doubling to 7′ with a surgical conclusion nell'angolino the right Rapacz, then made the 3-0 with a right from the limit already in the first half on the half hour.
The reaction of Matteo Fattorel Spring has mainly materialized in the second half with quick exchanges and conclusions to the door of Maschietto. Al 5′ the second fraction, the Giovanissime they are brought onto 4-0 with a stunning action from left, It materialized dall'incornata of Sossai power on the second pole. 24′ the Tosette signed the goal of the flag on own goal, creating further headaches in the final stages towards the goal.
SPRING – very young 1-4
Spring: Rapacz (Caon), Wolf (De Nadai), Cosaro (Salvador C.), Da Ros (good), Fattorel (Chicken), BROVEDANI (Everyone's), Gasparetto (When), Dal Mas, Sacilotto, Marino, Piccini. All: Matteo Fattorel
Very young: boy, good (Facchin), Chicken (Dal Mas), Bortolin (Nardi), When (Gasparetto), Everyone's (Salvador C.), Pizzolato (Salvador I.), Furlan (Sossai), Marin (Gift) (Battistella), Trevino (Bukovic) (De Conti). All: Sergio Fattorel