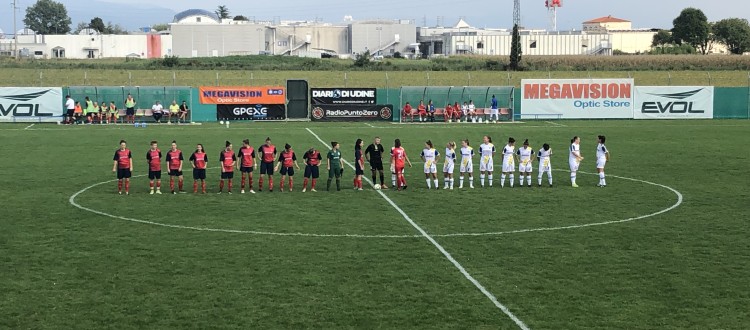 Field tests in Tavagnacco for rossoblù
In order not to lose the rhythm game this long league break, Saturday 28 September, the Rossoblu have carried out a joint exercise in that Tavagnacco, which ended with a game between the two teams. Entrambe le squadre sono rimaneggiate per le tante assenze, con Tommasella che si deve sacrificare come centrale di difesa data la non disponibilità delle due ex di lusso Martinelli e Frizza. Absent also Caccamo and Zannoni.
Il Tavagnacco ha più benzina sulle gambe e le giocatrici friulane arrivano con più tempismo sui contrasti e con più facilità in porta. The Permac tries to embroider their own storyline, but it lacks the final twist in area. At 23 'Tavagnacco close to scoring with Chickens, that enters into the area and left him to download the outgoing Reginato. The Permac responds with De Martin that a breath can not headed to the network Stefanello cross. Ivanusa is a thorn in the side of the Rossoblu defense and is good Reginato to block her way to 25 ', ma al 27' the Slovenian player goes into the goal of perfect filtering of before Chickens.
The Permac responds with two conclusions, before Cimarosti and then Piai, Capelletti but must not to get too up his gloves. At 40 'still close to scoring Ivanusa, but finds the response of a reactive Reginato. A minute later comes the doubling of Tavagnacco with Chickens, good at juggling in the box and lay the ball of 2-0. Al 45'rigor for Vittorio Veneto for handball in the area Kunisawa; from the spot Piai displaces the goalkeeper. Half-time: 2-1 for gialloblù.
In the second fraction, for Permac enters the former Bonassi instead of Reginato, while for gialloblù Kongouli and Molinaro. Le rossoblù vanno vicino al pareggio con De Martin in scivolata, but the striker fails to give the right power to shoot, the inviting cross from the right at the Piai 56' the Tavagnacco drops the trio with Kongouli: she is good Bonassi to intervene on the first shot Ivanusa, but nothing can lash on the number 10 in that way. IS' Bonassi yet to shine with some good saves on two other occasions, of Ivanusa and Veritti, but nothing can to 76', when the Tavagnacco falls poker with Kongouli, after a counterattack, assist by Kato. Mister Bortoluzzi gives minutaggio to the entire bench: enter Sovilla, Mella, When, and Zilli Domi, Piai, Who would like to e De Martin.
La sfida termina con la vittoria del Tavagnacco per 4-1. Ora per le rossoblù sono in programma settimane di allenamenti intesi, ahead of the official comeback Sunday 27 October.
Tavagnacco – Vittorio Veneto: 4-1
(27'Ivanusa, 41'Polli, 45' Piai, 56'76' Kongouli)
Tavagnacco: Capelletti,Milan, Babnik, Kato, Veritti, Polli, Gardel, Brignoli, Kunisawa, Ivanusa, Ferin
Available: Fontana, Nicola, Blasoni, canker, Gallo, Molinaro, Kongouli
Vittorio Veneto: Reginato, Furlan, Tommasella, Tomasi, Who would like to, Foltran, Domi, Stefanello, Cimarosti, Piai, De Martin
Available: Bonassi, When, Zilli, Modolo, Mella, Sovilla
Today, Sunday 29 September, andrà in scena la prima partita del triangolare del girone eliminatorio di Coppa Italia, Women between Ravenna and Lady Granata Citadel.
#ForzaTose