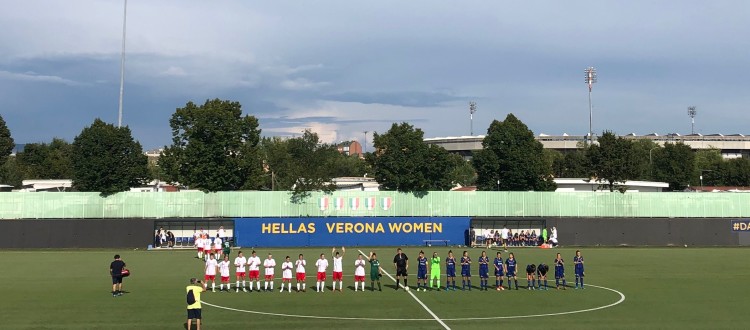 Tests on the victorious field in Verona
Joint training in that of Verona for Tose First Team Hellas Verona and Women, pronta ad iniziare un nuovo campionato di Serie A in trasferta contro la neopromossa Inter, next Saturday 14 September. La seduta di allenamento si conclude con un test sul campo, which has seen the two teams face each on the synthetic Olivieri stage of Verona.
Despite the difference of preparation it has made itself felt, gialloblù with much more fluid, to Tose they have faced the two times concretely, yielding the most of their experience. The defence, centrally guided by Michela Martinelli Gloria Frizza, new signing rossoblù, è una delle note più positive di giornata. Patrizia Caccamo, the first by rossoblù, He has relied on his technique in attack, sacrificing a lot in defense.
In the first portion of the game, the gialloblù broadly retain the ball game, without finding the opening goal, also thanks to the intervention of an inspired Giulia Reginato. Nel finale sono le rossoblù ad andare in vantaggio grazie a una bella azione corale e un assist spalle alla porta di Stefanello, che lancia a rete Ilaria Mella. The class striker 2002 finish coolly face to face with Forcinella.
As expected, swirl of change in the second half for both teams, con il Verona che modifica tutta la linea difensiva e inserisce, among the others, new signing Cantore in attack. The gialloblù persistently seek the equalizer and we go close on several occasions, always finding the opposition of the day captain, Reginato. La doppietta di Ilaria Mella arriva questa volta da un lancio millimetrico di Patrizia Caccamo, that paves the way towards the Chievo goal defended by Gritti: once again the coldness of numbers 6 Tose allows to go in goal. At the end, Diego Bortoluzzi decides to even the playing time Emily Country, midfielder class 2001 new purchase of Spring. The test ends with the victory 0-2 the Rossoblu.
Try giving morale to the team and many ideas to refine the preparation, ahead of championship debut match, on the calendar Sunday 15 September at 15:00 Stadium Paolo Barison of Vittorio Veneto.
Hellas Verona Women: Forcinella, Motta, Meneghini, Ambrosi, Mella, Bardin, nickel, Solow, Glionna, Pirone, Baldi
Permac Vittorio Veneto: Reginato, Furlan, Martinelli, Frizza, Who would like to, When, Stefanello, Foltran, Mella, Caccamo, Piai
(Available: the Ronch, Martinis, Modolo, Sovilla, Zannoni, Domi, Countryside)
Networks: Ilaria Mella (x2)