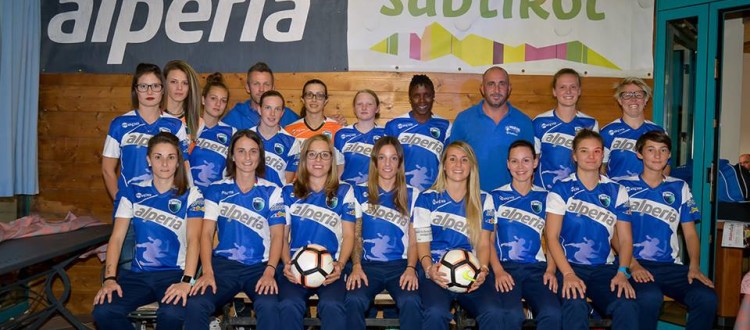 Turani: "Results of a growing group, positivity and maximum concentration"
Ladies and gentlemen. The passion for Fußball femminile in terra altoatesina ha acquisito grande slancio nelle ultime stagioni grazie ai buoni risultati conquistati nelle serie principali da Südtirol prima – Serie A parallel to Tose season 2015/16 – e Brixen & Unterland Women in the most recent year in Serie Cadets. In particular, formation Cortina on the Wine Route – half-way between Trento and Bolzano but under the aegis of the latter province – he finished tenth at stake 38 points a season started under different auspices, at least according to the remarkable series of ringed positive results during the first round. In the double intersection B with the girls led by Massimo Trentini, to Tose they have collected 6 the result of two points suffered measuring successes – both for 1-0 – to Barison collected before and on difficult terrain then Bozner.
After the 7 points gleaned in these first 5 days, of which 6 collected just in the last two rounds against Venice in Oristano and outside home, we hear from the defender '92 class Sara Turani, Product South Tyrolean youth sector, how to live in'locker room the approach to the trip tomorrow afternoon in the heart of the City of Victory.
The results show that after a halting start, con i k.o. against Padova and Riozzese and equal with Fiammamonza, They arrived two important consecutive successes, including the internal goleada all'Oristano.
This summer we took some very important reinforcements and we needed to find new amalgam between us in order to better face this new adventure in the Third Series. Surely this has influenced our start as simply and with only one point 3 matches, ma non abbiamo mai smesso di lavorare e di dare tutto allenamento dopo allenamento, and this I think you are beginning to see the latest results. As for the win on Sunday, to highlight the great respect they deserve a team like Oristano, forced all year to challenging trips from every point of view. Regarding the game in the strict sense, in the field we found spaces and the ability to create so much and to present regularly in recent 16 meters opponents. We offered a great team performance and we can not help but keep it that way as long as possible.
What game do you expect tomorrow in Vittorio Veneto, remembering that with rossoblù awaits a double cross in the space of two weeks between league and cup?
They will be difficult games, Toste, but we will be met with a positive mentality and maximum concentration, trying to do the best we can and maybe get points on one side and the other the next round. May the best man win!
With what objectives you are allocated at this season renewed Third Series of Italian football?
Our goal is to make the best possible match by match, migliorandoci always growing and gaining self-esteem in terms of the group and of the game. We are a united team with so much passion and desire to do well, we will give it all and we'll see – along the way – how many and what satisfaction we take away from here at the end of the season.