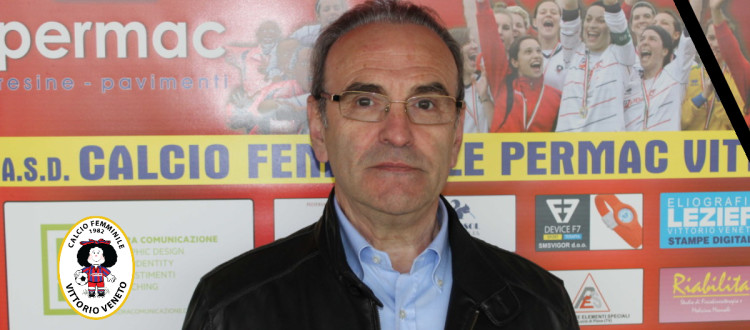 A year without Bepi: le Tose remember the patron Casagrande
I know I'm not alone, even when I'm alone. The juice Tose, for over 5 lustrums, they never walked alone, lungo un travolgente cammino fatto di dirompenti ascese e forgianti esperienze, tra l'indicibile gioia per l'approdo in Massima Serie e la costante tenacia per difendere in ogni circostanza e categoria i gloriosi colori della Città della Vittoria.

Giuseppe "Bepi" Big house era il Permac. Più di un semplice e instancabile imprenditore legato a una grande azienda del territorio: un amante dello sport, un mecenate, un amico personale e intimo della famiglia Fattorel, desideroso di supportare con ogni mezzo possibile la romantica avventura del Calcio Femminile a Vittorio Veneto. Bepi è sempre rimasto vicino alla squadra a cui ha deciso di legare il proprio marchio, anche quando il fisico aveva cominciato a decidere diversamente al suo posto: aveva regalato un pensiero di vicinanza e gratitudine alle Tose, quando un primo prolungato ricovero nell'autunno 2019 gli aveva impedito di poter assistere, come sempre negli ultimi 20 anni e più, alle gesta sul campo della formazione rossoblù.

Ma soprattutto Bepi aveva condiviso in primissima linea la travolgente emozione della promozione in Serie A nel maggio 2015: un traguardo conquistato con fierezza nel ricordo del grandissimo amico Franco Fattorel, the "Mustache", che con la sua straordinaria e gioiosa irruenza lo aveva convinto a sposare la pionieristica causa del movimento femminile vittoriese.

"Bepi ha cominciato a supportare la nostra società con sempre maggiore vicinanza e supporto sin dal 1997 – ricorda la presidente rossoblù Patrizia Ferro – la vivida amicizia con Franco e il desiderio di sospingere la nostra passione sportiva lo hanno spinto a volersi legare alla squadra, sino al punto di darle nome dell'azienda e sostegno in modo incondizionato. Non ci ha mai fatto mancare nulla ed era estremamente innamorato di questa realtà, cercava di non perdere mai un appuntamento allo stadio e, nell'anno della vittoria della Serie B, era emozionato quanto noi per un traguardo così importante raggiunto nel ricordo di Franco."

In primo anniversario della sua scomparsa, la società rossoblù lo ha voluto ricordare con un minuto di silenzio prima del calcio d'inizio del match contro il Brixen, tra le mura di quello Stadio Paolo Barison che era a tutti gli effetti casa sua.
Grazie Bepi, per sempre con noi!