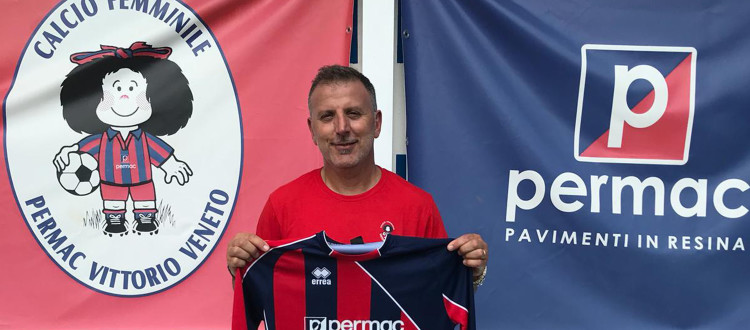 Under 17: driving is Mr. Dario De Biasi
The team Under 17 this year will have a coach as leader, for those who follow the red and blue colors of Permac Vittorio Veneto, It will bring to mind many battles played with determination on the field. Mr. Dario De Biasi torna infatti a sedersi su una panchina rossoblù e, having coached the junior season 2015/16 and First Team, with the epic ride door to door with the battleship Sassuolo, He will be driving the Allieve. To give him a hand as assistant coach, it will be Mattia Vanni, veteran vintage rewarding with small house Permac, the Rookies. Mister De Biasi, who started training with his new players yesterday (26/08), He tells us his feelings on returning to don the red and blue colors of the women's football.
A return in rossoblù companies, this time with the Under 17: What prompted you to re-marry Permac project?
Alla chiamata di Matteo Fattorel e Cristian Bigaran, DS and Head of youth department, I could not say no; for the seriousness of the project and because I believe strongly in the potential of this company. The youth sector is, in my opinion, the true heart of every society and for this reason I felt immediately part in the project.
The youth sector is a piece of absolute importance and the role of Mister is central to the growth of the players: how do you approach this responsibility?
I face this new experience with enthusiasm. I believe that a youth coach should be first and foremost an educator, with technical and tactical knowledge and communication skills, but mostly it has to be powered by the passion for this sport.
It will be a challenging season for your young footballers: What would they bring home from this season?
I hope that this season can be formative and will lay the foundations for a long-term work. We know that the Under 17 fall into the category racing, category that are required, beyond the individual growth, Also sports results. Results that we will try to get through a collective game purposeful.
You will be joined by Mattia Vanni as vice: it is important to work in a close team?
With Matthew Vanni, which will be the assistant coach, there is already a good understanding. In every organization, the ability to work together, sharing goals, always brings a benefit. The double presence on the field will give us the best overview and the ability to better handle the details.