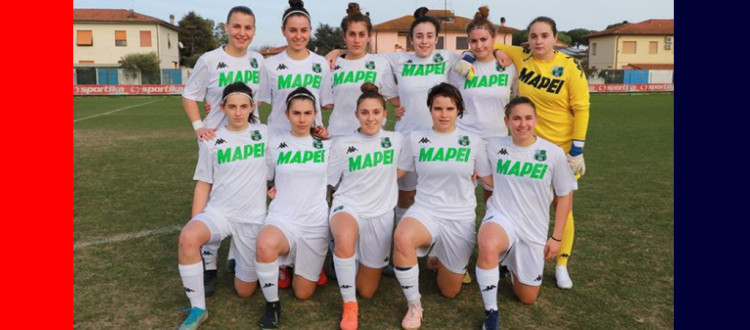 Viareggio Women's Cup: experience to tell
13 February 2020 – I primi 90′ the 2nd edition of the Viareggio Women's Cup They are gone, registering 10 Total goals and no draw.
With the jersey number 5 neroverde on the shoulders, Carlotta Martinis He played all 90 minuti di Sassuolo-Fiorentina (finale: 1-2 for purple). We heard to tell us his first impressions of this prestigious tournament, ahead of today's match against the American team of Westchester United, defeat 0-2 from Genoa in the other match in the group 2.
1) The history of Viareggio Women's Cup is still young for women, but we all know its importance. How much can help to grow football "in rosa"?
I am convinced that events like this are vital to grow the women's football in Italy. La finale ad esempio verrà trasmessa in diretta TV su Rai Sport, giving the right visibility event. Tournaments of this caliber, involving teams from all over Italy and from abroad, They move a lot of people and create important connections and opportunities for players and society, facendo vedere che il movimento calcistico femminile è più vivo che mai.
2) This experience will be an important part of your football life: How do you live this opportunity with the shirt neroverde?
The being summoned from the ranks of Sassuolo for this tournament is definitely a great satisfaction for me, and the fact of playing in a top club and because the Viareggio Women's Cup is a prestigious tournament, that offers you a lot of visibility. I will give my best, putting myself at full disposal of coach Ilene Nicoli and my companions.
3) Against Fiorentina have played all 90′: com'è stato inserirti nel reparto difensivo di una squadra che conoscevi solo come avversaria?
It was actually quite easy, grazie all'intesa con le compagne di reparto che sì è creata molto presto. I was very well received by the group and I'm entering without difficulty, also having the advantage of knowing already Giovanna Coghetto, on loan to Sassuolo Primavera in preseason.
4) After the order will face Fiorentina Westchester United and Genoa: what are the sensations in the house neroverde?
The goal at home neroverde has to go through, quindi il clima è carico e teso. Dobbiamo scendere in campo tutte al top, to address these important challenges with the right determination.
For all the day 1 results, cLICK that
The next Carlotta commitments with the shirt of Sassuolo:
Sassuolo – Westchester United
Thursday 13 February – hours 15.00
Stadio "Cars" – PI Santa Croce sull'Arno
Genoa – Sassuolo
Saturday 15 February – hours 11.00
Campo Sportivo "Marco Polo Sports Center" – Viareggio LU
Buon calcio sui campi della 2ª Viareggio Women's Cup!