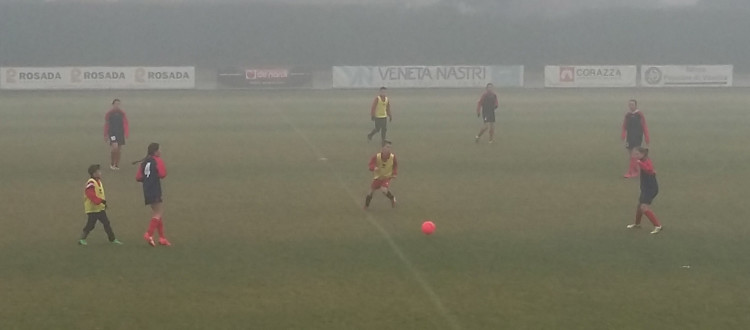 Beginners and Giovanissime field today
Si sono ritrovate oggi le piccole mafaldine per un'ultima sgambata di fine anno. Un'amichevole tra il San Fior finita 3-1 for rossoblu (1tp 0-0 | 2tp 0-1 | 3tp 0-1) in gol Gaia Chies con un tiro centrale, complice anche le condizioni atmosferiche che hanno fatto scivolare la palla dalle mani dell'estremo difensore sanfiorese e un primo tap-in della neo-arrivata Giovanna Coghetto. Comunque un'ottima prestazione, quella costruita questa mattina, tra la nebbia e il ghiaccio che ricopriva il terreno di gioco delle piccole rossoblu che stanno costantemente crescendo.
Partita questa che serviva per sciogliere un po' i muscoli e tenere viva la concentrazione dopo le feste natalizie, visto che già il 3 gennaio le mafaldine scenderanno in campo nuovamente per l'inizio dei consueti tornei invernali.
The 3

gennaio il torneo si terrà al Duomo di Vittorio Veneto

,

tutto il giorno

.
The 6

gennaio andranno a Cittadella per il famoso torneo

"Stella Stellina",

tutto il giorno

.
From 10 to the 31

gennaio parteciperanno anche al torneo

"young footballers"

che si terrà a Mestre e San Donà di Piave

.