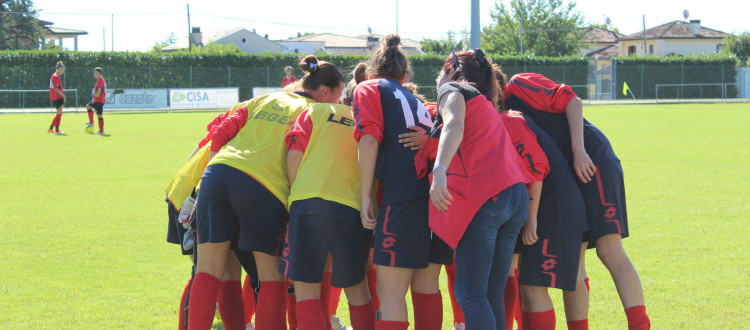 Spring,
rotonda vittoria chiude l'anno
A Rosà si si sono affrontate, nell'ultima partita di andata del campionato Primavera le padroni di casa, Femminile Bassano e il Vittorio Veneto Permac. Le Tosette reduci dal vittorioso scontro con il Marcon affrontano le ospiti con la solita grinta che le contraddistingue offrendo ad un numeroso pubblico buone giocate, dalle quali ne scaturisce il doppio vantaggio, con Ponte e Toffoli. Allo scadere del primo tempo, Bassano, con una palla inattiva, complice l'ennesima disattenzione difensiva delle ospiti, accorcia le distante.
In the second time, la maggior tecnica ed una smagliante condizione fisica, (malgrado i novanta minti nelle gambe di due giorni prima), le Tosette vanno a segno altre 5 times, con Sovilla, Bridge, Lorenzon, Sovilla, Toffoli.
Da segnalare il buon esordio di un paio di giovanissime in campionato Dal Col, già contro la gara con il Marcon e Bortoluzzi.
The words of Mr. De Biasi after the race:"Le ragazze stanno maturando consapevolezza e fiducia, ma quello che più mi colpisce è l'unità del gruppo. Gruppo che è maturato, che riesce ad aiutare nelle difficoltà tutti i protagonisti, questo anche grazie alla presenza costante di tutto lo staff, dirigenti, accompagnatori, accompagnatrici. Ora abbiamo un periodo di sosta abbastanza lungo nel quale andremo a lavorare su qualche lacuna emersa in questo periodo, preparando per bene il girone di ritorno. Volevo augurare a tutte le ragazze, a tutti i loro famigliari e a tutti i tifosi i migliori Auguri di Buone Feste."
Bassano female 1-7 Vittorio Veneto Permac
Goalscorers: 13' Ponte – 21' Toffoli – 52' Sovilla – 54' Ponte – 55' Lorenzon – 57' Sovilla – 73' Toffoli
Formation: 1.Bolzan, 2.White, 3.Piece, 4.Lorenzon, 5.Zanette, 6.Uliana, 7.Toffoli, 8.Piece, 9.Bridge, 10.Modolo, 11.Wain. Available: 13.Wind, 14.Sovilla, 15.FRANCESCON, 16.Bortoluzzi, 17.Dal Col. Coach: Dario De Biasi.
Substitutions: 45'Sovilla – 58' Dal Col – 70' Francescon – 74' Bortoluzzi.
I risultati della giornata
9ª giornata – Andata 19-20/12/2015
| | | |
| --- | --- | --- |
| Bassano female 2015 | Permac Vittorio Veneto | 1-7 |
| Keralpen Belluno | Gordige Girls Soccer | 2-1* |
| Real Spinea | Football Rubano | 2-5 |
| Real Venezia F.C | Graphistudio Tavagnacco | retreat Team |
| rest | Marcon | |
The current standings
| | | | |
| --- | --- | --- | --- |
| Pos | Team | Pu | Gi |
| 1) | Graphistudio Tav. | 21 | 7/16 |
| 2) | Permac Vittorio Veneto | 18 | 7/16 |
| 3) | Belluno | 12 | 7/16 |
| 4) | Marcon | 12 | 6/16 |
| 5) | Bassano | 9 | 6/16 |
| 6) | Gordige | 7 | 7/16 |
| 7) | Rubano | 4 | 6/16 |
| 8) | Real Spinea | 0 | 7/16 |