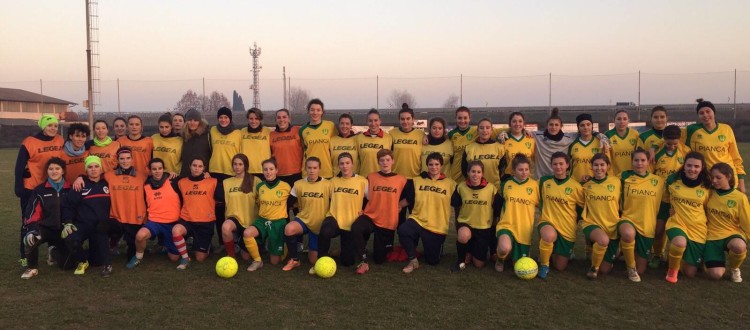 The triangular goes to the First Team
Oggi al triangolare di fine anno, si sono scontrate: la Prima Squadra rossoblu, la Primavera del Permac e il Gaiarine femminile (Series D). Gran bella giornata di sport e divertimento che ha fatto sgambettare e tenere attive le atlete vittoriesi in vista dei loro prossimi impegni di gennaio, Bolzano per il first team mentre per le Tosette ancora riposo fino al 18 gennaio quando, in casa, affronteranno il Real Spinea.
Squadre miste per la Permac, nel first team, guidato da Sergio Fattorel, They were chosen: Bolzan, Very, Tone, Da Ros, Virgili, Barzan, Cutifani, Messenger, Zanon, Ponte and De Martin.
La Primavera, di Dario De Biasi, invece è stata composta da: Reginato, Sovilla, Toffoli, Rossi, FRANCESCON, Lorenzon, Da Ros, Zanette, White, Modolo e Coghetto. Available: Part F., Piece G. e Bortoluzzi.
Per il Gaiarine invece queste sono state le convocate: Muzzi, Ferro, Cardi, Lot, Vastola, Polese, Segatto A., Paulin, Segatto G., Chiaradia, Sanson, Rosolen, Luisotto, Furlan, Franzin.
Pronti via e "settebello" nella prima partita delle Tose che stormiscono un Gaiarine in netta inferiorità tecnica, dovuto dalla chiara differenza di categoria. Ponte apre le danze, raddoppia Barzan, tripletta di Zanon, firma il tabellino anche Manzon e allo scadere va in gol anche Tonon. Dall'altra parte il gol della bandiera lo segna Chiaradia.
La seconda gara è una partita in famiglia, tra le due squadre più grandi della società rossoblu amalgamate assieme. Finisce infatti in parità la gara, il first team passa in vantaggio per ben due volte con De Martin, ma viene raggiunto prima con Sovilla e poi con il tap-in di Francescon.
In the last race, le lancette dell'orologio girano solo due volte l'intero quadrante e il Gaiarine va subito in gol, raddoppia dopo appena 7 minutes, l'autrice delle due marcature è Chiaradia. Alla mezz'ora il gol della bandiera rossoblu è di Sovilla.
TABELLINO
Permac Vittorio Veneto 7-1 Gaiarine
Permac Vittorio Veneto 2-2 Primavera Permac Vittorio Veneto
Primavera Permac Vittorio Veneto 1-2 Gaiarine
Finisce così dunque il triangolare con la vittoria del first team guidato da Sergio Fattorel. Domani ultimo allenamento dell'anno in notturno allo Stadio Paolo Barison, dopo il consueto "rompete le righe" until the 2 January.