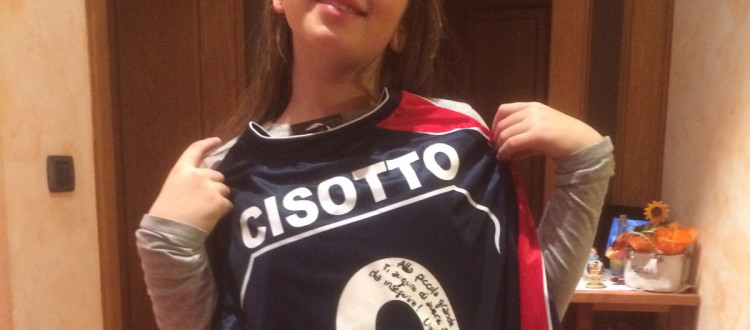 typhoid RossoBlu, Alice and the dedication of Cisotto
The third episode of "Rossoblu fans of Italy" stops in the city of victory, the cradle of women's football Permac Vittorio Veneto. Alice Zanchetta, 10 age, Vittorio Veneto is madly in love of Tose, more precisely Bomber Cisotto (both of his goals this far in Serie A). you do not even lose a game, Alessandro she and her dad are always in the front row at the stadium Barison. In the last race, the pre-Christmas against the champions of Italy in office, received the gift and dedication awaited, jersey number 9 Giorgia Cisotto.
How did your passion for football and above all for the Rossoblu world?
I like to see girls playing in tune, in any sport. Typhoid Vittorio Veneto because it is the team of the city where I live.
You play football? if not why and what other sports do you?
No for now I play football but volleyball, I really like.
Would you like to start playing football and become like Giorgia?
Right now I do not think you start to play football, I love volleyball and I want to continue with the sport, but who knows maybe more later ...
Why just Giorgia Cisotto?
Because it is good and my own shirt number ... and then I is so nice.
Can you tell us what it says in the dedication that made you bomber Ciso?
At the small big fan I wish to have important dreams to chase a hug Ciso.
Make a special greeting to the team
Hello to all of you, I hope to win many games. tose Force!