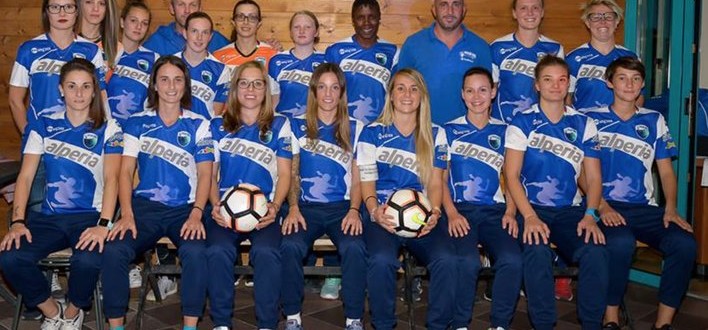 Settecasi: "We are in good health, we will fight to defend our fort"
Settecasi for…eight clues. After a start to the season rather stunted, at least in terms of the results collected in the field, l'Unterland Women – vigorous team of Cortina on the Wine Route, halfway between Trento and Bolzano, and under the administrative jurisdiction of the latter – It has fully entered the comfort climate Group B Series C stringing together an excellent series of consecutive successes, given that highlights how the team currently in better shape entire league. Dai 3 points collected Christmas all'antivigilia field of Como, the prestigious scalp of Riozzese – so far unbeaten – Recovery in the home on Wednesday, The girls led by Massimo Trentini are at stake eight consecutive wins: important numbers, which highlight the performance of an attack in great shape despite a rearguard not always impeccable, capable of granting in seven times out of eight at least one network to the opponent.
Among the most talented players of the team in South Tyrol stands out the midfielder born in '91 Gabriella Settecasi, Sicilian-born footballing now Bolzano adoption. Just by the talented protagonist of free kicks dell'Unterland – already scored in week, a penalty kick, own against Riozzese – we feel it is the atmosphere in the locker room biancoblù within hours of the match valid for the 17but Day.
24 points in the last 8 matches, third place in the lonely and the fresh victory in midweek against recovery Riozzese: l'Unterland in questo momento sembra davvero al top della forma stagionale.
We are in a very very positive period of our season, eight consecutive victories are the best litmus test of our great time in terms of both physical and mental. The vittoria contro la Riozzese nel recupero ci ha reso ancora più consapevoli di quanto sia stato un peccato perdere tanti punti a inizio campionato, though, after several changes and new additions to the group, was physiological need a little' time to know each other well and to mesh better as a group and as a team.
In a few hours you will face the league leaders, team that you know well and that you have already faced this season in the outward and dry round of Italian Cup.
The Vittorio Veneto is a valuable team, and we already know, surely they will put us from a lot of grit and as much desire not to lose the top spot in the standings that have earned so far. The respect them a lot, but come and win on our grounds Cortina will not be easy. For our part we will once again the maximum, to cultivate the ambition to further improve our already good position classification.
A quali obiettivi possono puntare la vostra squadra e società, nel medio-lungo termine, per questa stagione e per il futuro?
Il nostro obiettivo per questo finale di campionato è quello di continuare a far bene e migliorare ancora di più, analizzando partita dopo partita gli errori commessi e cercando di azzerarli per raggiungere risultati migliori in futuro. Il gruppo è diventato una squadra che a inizio stagione, visti tanti nuovi innesti, era in rodaggio e adesso gioca compatto per un unico risultato: victory!